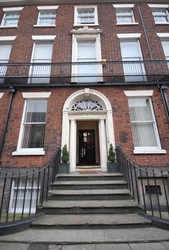 Luis Paul Obogliolo – Italy "It was a great surprise. Wonderful place to stay. Incredible room and good location."
(PRWeb UK) December 2, 2009
Modern business travellers are turning their backs on traditional executive hotels in favour of serviced apartments, creating a home from home when they're traveling for work, according to customer research by Liverpool's largest premier apartment provider Urban Chic.
Urban Chic analysed a nine-month period of customer feedback between February and October 2009 for the survey, in which guests pinpointed six key factors in their decision to stay in serviced apartments while away on business trips:
1. flexibility
2. price
3. comfort
4. service
5. home from home
6. space
Business traveller Peter Coking, from London, commented: 'Urban Chic was really nice - a beautiful location just five minutes from the city centre, with a good size double bedroom and living room. The room had a new bathroom and was full of extra appliances - an ironing board, hairdryer etc. Worth every penny you pay for it.'
Urban Chic's CEO, Conor O'Donovan, says, 'more and more business is flooding in and the economic upturn of Liverpool is rocketing. We've found there are a lot more people choosing to do business Liverpool - Capital of Culture year last year and the opening of the BT Convention Centre on the waterfront have had a huge impact on both the city's international image, and the opportunities for people to do business here. Teh survey results are music to our ears - clients tell us they're relying on Urban Chic's serviced apartments mid-week, because of the privacy, quiet, free Wifi and value for money, which is good for everyone's business.'
Not only are serviced apartments proving better value for money for travelers - an average of £55 a night, with discounts for longer stays - they come out as larger than standard hotel rooms, more flexible and more comfortable in Urban Chic's research. Guests have desk space and free WiFi in their rooms to work when they need to, and the flexibility to choose to go out, stay in, cook, order a takeaway or enjoy some of Liverpool's finest restaurants.
O'Donovan adds: 'Serviced apartment give people the opportunity to relax and settle in without worrying about staff coming in and out of their rooms all the time - they can make the space their own for the duration of their stay. They're also telling us what good value we are - if you think about all the money you're saving on accommodation and how much more you can enjoy with it; either while you're away on business, or keeping the cash in the bank for your company. But don't just take our word for it - the proof is in the feedback we're getting from guests...'
Fellow traveller, Monti, noted: 'Fantastic value for money staff were very friendly definitely stay there again.'
Notes to editors:
Urban Chic is the largest provider of serviced apartments in Liverpool. With a mixture of self-catering for short stay or long term rental, with contemporary designed interiors, Urban Chic boasts apartments in the the Grade I listed Albert Dock, alongside the city's World Heritage Waterfront, amid the Georgian splendour of the Cultural Quarter and at the heart of the city's Business District.
Urban Chic's Roscoe House in Rodney Street also boasts one of only two grand pianos in guest accommodation in Liverpool.
Customer research is based on a survey of customer feedback between February and October 2009.
For more information please contact Conor O'Donovan on (0)151 708 0532.
###