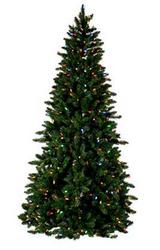 This year we are seeing more customers concerned with making the most eco-friendly choice possible, and our LED Artificial Spruces are finding their way into a lot of homes.
Saint Paul, MN (PRWEB) December 9, 2009
As millions of Americans start diving into the Christmas Season with full-force, a question on many minds is whether investing in an artificial Christmas tree, or heading to the tree farm, is the best route to take this year. For consumers concerned with the long-term cost to their wallet and the environment, studies show that artificial trees are a clear winner. In fact, when considering all the commonly-listed artificial vs. real pros and cons, real trees only take the lead for that fresh pine smell. However, as the American Christmas Tree Association (ACTA) notes, that smell is also responsible for aggravating many people's allergies, so it's a bit of a bittersweet win.
Having come a long way from their humble aluminum beginnings, modern Artificial Christmas Trees are available in countless realistic tree varieties, and importantly, are built to last. In an in-depth study sponsored by the ACTA, and conducted by PE Americas, a sustainability firm, the primary environmental offense for real trees versus artificial is in the fossil fuel expense. When you purchase an artificial Christmas tree, you are only driving to and from the store once. With a real tree, you are using more gas every year.
Considering all costs associated with real and artificial Christmas trees, the same study found that in summation, the average cost of using a Pre-Lit Artificial Tree instead of real trees for just 10 years will cost 70% less money with a sizable portion of that 70% savings stemming from artificial trees being a smarter solution. While fuel accounts for the greatest percentage of environmental issues associated with real trees, it is also important to consider that artificial trees require no watering at any stage of their existence, and that many come pre-lit with energy-saving LED lights. Ted Robinson, Marketing Director for ChristmastownTrees.com notes that, "This year we are seeing more customers concerned with making the most eco-friendly choice possible, and our LED Artificial Spruces are finding their way into a lot of homes. Because people are conscious of making the best choice all-around, they want to get it completely right the first time. And to ensure every customer is confident that they are making the right decision, we can be reached by email 24 hours a day with any questions."
A primary complaint of many Americans is that 'going green' costs too much 'green'. ChristmastownTrees.com has always felt that at least in the case of Christmas trees, this was not true, and are excited by the findings of the ACTA's extensive study. For more information on the ACTA and their findings, please visit them at the ChristmasTreeAssociation.org. To shop Christmastown Trees selection of artificial trees, please visit ChristmastownTrees.com.
About ChristmastownTrees.com: Christmastown Trees is a leading direct marketer of Pre-Lit Artificial Christmas Trees. Their experienced staff partners their own extensive knowledge with relationships with the best manufacturers and distributors in their industry to provide customers with the highest-quality artificial trees available, and fast, free shipping. Christmastown Trees brings an extensive assortment of artificial Christmas trees, including popular traditional choices such as Artificial Spruces and Artificial Fraser Firs. They also offer a unique variety of trees for those who want something a bit different for Christmas, including radiant Artificial Red Ashley Trees and Cashmere Christmas Trees.
###