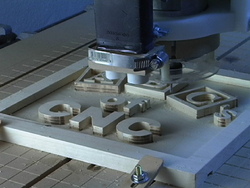 "Just wanted to let you know that I love your video and watch it a couple of times a week for motivation to build my own CNC machine." Marcel M.
Albuquerque, NM (PRWEB) December 1, 2009
The ABC's of CNC video DVD, which has just been released for full public distribution, will teach the CNC hobbyist all of the basics about computer controlled woodworking, machining or metal fabrication. The video teaches everything need to get started in the fascinating and rewarding CNC hobby.
With a CNC router, CNC mill, CNC lathe, or laser cutter or plasma cutter, it is possible and practical to cut and machine highly detailed,extremely accurate parts. A CNC machine will open up a whole new world in the home workshop for model airplane enthusiasts, model railroaders, woodworkers, artists, and craftsmen. The ABC's of CNC is a two hour video that is packed with information about how CNC works, what hardware, what electronics, and what software you need to get started.
Design, draw, program and cut parts with a typical home computer. Learn how to buy a CNC or build a CNC machine. Cutting very accurate, reproducible parts is now easily accomplished in a home workshop, without any special training in electronics, computer programming or machining. Learn all about this all-inclusive video at http://www.abcsofcnc.com CNC technology can be overwhelming, but with the proper training and advice, it becomes logical and do-able... in a home workshop environment. The costs of the hardware and electronics have come way down. A very basic Windows PC computer will do everything that is necessary.
With basic workshop skills, the desire to succeed, and the ABC's of CNC video, it's possible to have a working CNC router, CNC milling machine, CNC lathe, CNC laser cutter, or CNC plasma cutter in YOUR home workshop!
###