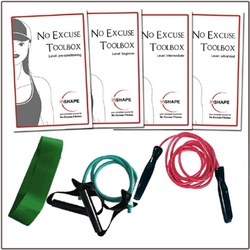 After years of working out with hundreds of clients, I am excited to offer this simple, low-cost approach to fitness. The No Excuse Toolbox will get you fit and feeling great. - Jillian Redfern, inSHAPE Founder
New York, NY (PRWEB) December 1, 2009
The fitness and diet industry continues to explode in the United States, and ironically, so does the waist size of the US population. Americans are addicted to food, and they are addicted to diets, gyms, and trendy programs, all promising the same thing: the secret to being thin and healthy. Unfortunately, this combination of lofty promises and broken commitments continues to mystify those who need the most help. Making this problem even worse is the recessed economy. Many people simply can't afford expensive gym memberships and fancy equipment. However, canceling a gym membership kicks in the guilt and leaves many people in the dark and depressed about their workouts. Most people just don't know how to exercise without equipment or outside of a gym.
For twelve years, the team at inSHAPE has been designing simple but effective workout routines to help private clients get fit and stay in shape without the need for a gym. For the first time, inSHAPE brings this straight-forward approach to fitness to anyone who wants to live a more healthy lifestyle. With the No Excuse Toolbox, people of all fitness levels can learn how 25-30 minutes a day of simple moves will create a stronger, leaner, and healthier body.
The No Excuse Toolbox contains four booklets, each consisting of two workouts; one that targets the lower body and one that focuses on upper body. Each workout is 25-30 minutes and is a combination of strength and cardiovascular moves, which together create a high calorie burning workout. The toolbox is designed to be used six days a week, for no longer than 30 minutes each day, alternating between lower body and upper body workouts. Each workout also includes core moves that will strengthen the abs and back as well as stretches at the end.
The toolbox begins with the most basic moves and progresses on to more advanced levels of the exercises as the body becomes more conditioned. Illustrations show how to execute each move, and intervals of time are used instead of repetitions for most moves so that people can progress at their own pace. It's an easy and efficient way to get in shape in minimal time and with no inconvenience (no travel time to and from the gym, etc...). People can even use these workouts when traveling, they don't take up much room in a suitcase. The No Excuse Toolbox will also make a great holiday gift for loved ones, and at just $49.95 (includes shipping & handling within the US), it won't put a huge dent in the wallet this season.
inSHAPE is the complete source for effective fitness and nutritional programming. Developed in 1997 by New York City personal training veteran, Jillian Redfern, inSHAPE was created for busy professionals who possessed the desire to get fit and stay healthy without having to travel to a commercial gym. Committed to making fitness work for everyone, whether you're a busy executive or a stay at home mom, inSHAPE offers the following in-home services: private, semi-private, and small group training, yoga, pilates, massage therapy, and nutrition counseling. inSHAPE also offers corporate programming, as well as combination packages created specifically for brides and weight-loss clients. In-home services are offered throughout the five boroughs of New York City and Fairfield County, CT. Consultations and training are also offered via phone and email, and various products can be purchased or accessed through the inSHAPE online store.
###