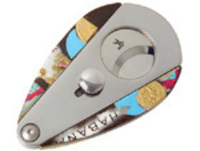 I just bought three new Xikar cutters: One for my motorcycle, one for my golf bag, and one for my briefcase. I have been a Xikar owner since 2000, and have never used another cutter. My original one has served me well all these years, but was recently l
Alpharetta, GA (PRWEB) December 1, 2009
Looking for the perfect gift to last a lifetime for your favorite cigar aficionado? CigarCutters.com is celebrating its second holiday season with a bigger and better inventory of cigar accessories from the highest quality and best-known manufacturers. With both a "new free shipping offer" plus a free cigar tube for orders over $75, the website is ready for a blockbuster holiday season and record sales in 2010.
Perhaps the best-known line of quality cigar cutters that CigarCutters.com carries, is the Xikar brand. Based in Kansas City, Xikar sells a very broad line of high quality, ergonomic shaped cigar cutters that provide the perfect cut for decades. In fact, Xikar offers a lifetime guarantee on all of its products.
So, if purchasers feel that a XIKAR product fails to live up to their promise of fit, finish or function, they simply return it to them and XIKAR will immediately and cheerfully repair or replace your product under their Total Satisfaction Guarantee!
Except for their cigar punches and scissors, the complete line of Xikar cutters are spring-loaded, double guillotine designs to give the cutter feel and performance like no other and start at a holiday reduced $31.99 and go up to $255 (20% off the $299 retail price) for the Xikar Havana cutter collection. The Havana line of stunning cutters are individually hand-made in Paris using mixed media decoupage on French maple to form one-of-a-kind cutter handles that are truly pieces of art.
Whether it's the least expensive Xi2 model or the Havana cutter, all Xikar cutter blades are made of high quality 440 stainless steel with an HRC of 57 and have a 54 ring gauge. Depending on how much cap one cuts, they will effortlessly cut up to a 58 ring gauge cigar. A button release mechanism snaps the two super-hard stainless steel blades into the open position and ready to provide the perfect cut.
In addition to the expensive ELOI and lesser-known Colibri brand cigar cutters and punches that CigarCutters.com carries, perhaps the fastest growing brand of cutters is from Palio. Based upon the precision and calibration of today's superior medical devices, Palio cutters have been mechanically engineered to deliver the most precise cut available in the cigar accessory market today. Palio cigar cutters have a number of styles including the beautiful Burl, a sharp carbon fiber and the newest style - the Camo line (that soldiers and hunters love). Those two-finger cutters complement the original (OC-10) and the gold and silver styles.
Also featured on the cigarcutters.com website is a robust array of lighters that are especially designed for cigar smokers. Xikar seems to lead the field in this area as well with a number of attractive styles with 4-6 different colors in each style that start at just $23.99.
For example, XIKAR recently introduced a revolutionary new design in jet flame lighters. The Xikar Trezo lighter is the first and only in-line triple jet flame lighter available today. Its unique design places two outer jet flames at an 8 degree angle inwards, concentrating the heat source at the perfect point above the flames. This means that no matter the size of your cigar or lighting condition, you will have a good clean light.
A large fuel window reminds you to refill the oversize tank and a large fuel adjustment wheel ensures you always have the exact flame size desired. Like their cigar cutters, the Xikar lighters also come with a lifetime guarantee.
In addition to cutters and lighters, cigarcutters.com offers both travel humidors and desktop humidors to keep good cigars fresh while traveling and while stocked at home. There are also a number of styles of triple cigar leather cases and single cigar tubes to prevent cigars from being crushed during an evening out.
With most orders shipped within 24 hours, customers can expect a quality shopping experience. So visit http://www.CigarCutters.com and give your favorite cigar smoker (or yourself) a special gift that will last a lifetime.
###