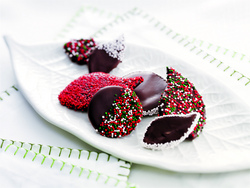 Madison, WI (PRWEB) December 2, 2009
With the holiday season upon us, bakers everywhere are dusting off their rolling pins and gathering up their measuring cups. Every corner of the country has its own unique spin on holiday cookies and candies. America's Dairy Farmers® offer eight new recipes that are inspired by local ingredients or a reflection of traditions unique to the people who live there. Wherever you live on the map, there is a recipe – or two – to add to your holiday cookie plate.
Baking enthusiasts will also enjoy a daily holiday cookie e-newsletter, "Better Baking with Butter," available to subscribers through Dec. 24. Visit butterisbest.com to sign up.
Almond Butter Buckeyes
Apple Cider Buttons
Bananas Foster Bars
Chocolate Butter Pecans
Gold Rush Bars
Mount Rainier Macaroons
Pistachio Biscochitos
Wintermint Wafers
Statistics

It takes 21 pounds of fresh, wholesome cow's milk to make each pound of butter.
Americans consume about 5 pounds of butter per person per year—while Germans consume about 14 pounds of butter and the French consume about 18. (Source: USDA/ERS, Livestock, Dairy and Poultry Situation and Outlook; FAPRI, 2007 Agricultural Outlook)
Tips

Store butter in its original packaging or in a tightly covered container in the coldest part of the refrigerator, not in the refrigerator door.
For melt-in-your-mouth cookies, use slightly softened butter. With its low melting point, butter helps make cookies soft and chewy on the inside, but crisp and golden on the outside.
For flakier pie crusts and puff pastries, keep butter as hard and cold as possible prior to use. The flaky texture is produced when cold pieces of butter, trapped between thin layers of dough, melt during baking, creating small air pockets.
Links

###