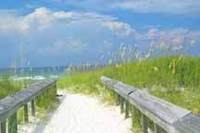 Gulf Shores, AL (PRWEB) December 25, 2009
Toast the arrival of 2010 on the Alabama Gulf Coast as this charming coastal community offers an event for every member of the family. Be sure to check out the value-filled New Year's Eve packages.
For a child friendly event, stop by LuLu's at Homeport Marina, which will be hosting its annual "Noon" Years for Kids. Beginning on New Year's Eve at 10:00 a.m., this free event features several fun-filled hours of clowns, face painters, crafts and games. Don't miss the balloon release at high noon or the age-appropriate live musical entertainment.
Then find a babysitter for the little ones, and ring in 2010 at LuLu's at Homeport Marina as Nadirah Shakoor and Outsider Art rock the house. Shakoor is the former lead female vocalist for the hip hop group Arrested Development and a long time featured vocalist in Jimmy Buffett's Coral Reefer Band. The doors open at 7:00 p.m., and the band starts rocking at 9:00 p.m. However, the kitchen is open until 11:00 p.m. At midnight, enjoy the complimentary party champagne toast and New Year's breakfast. The tickets go on sale at 9:00 a.m. on Tuesday, November 24 and cost $25.00 for perimeter seating or $35.00 for floor seating.
Also, LuLu's partnered with Staybridge Suites Hotel in Gulf Shores to create a special package for revelers. Book a room and get transportation to and from LuLu's in addition to two tickets for the entertainment. The lodging prices (which include LuLu's tickets) are $139.00 for a one-bedroom room or $159.00 for a two-bedroom room. To book this special package, call the hotel at (251) 975-1030.
For more information on either LuLu's event, call 251-967-LULU, or visit lulusathomeport.com.
Meanwhile, satisfy the need for fireworks with a trip to The Wharf, which is hosting its 4th Annual New Year's Eve Block Party Blowout. A children's area will feature inflatable attractions and amusements starting at 11:00 am. Later in the evening, the focus will switch to dining, televised football, live music and an impressive fireworks display at the midnight hour. For more information on this free event, visit thewharfal.com, or call 251-224-1000.
In addition, all three Live Bait locations on Pleasure Island will be hosting a New Year's Eve Celebration. Live Bait Too will feature a buffet style dinner with the Christy Campbell band for $60.00 per couple or $30.00 per person. At Live Bait at The Wharf, patrons will be able to order from the menu, and entertainment will be provided by Malcolm Bond. The Original Live Bait showcases a several special chef selections, and patrons can order from the menu. These customers will listen to the sounds of Rescue Dogs. Seating is limited, and reservations can be made by calling 251-974-1612. For more information, visit livebaitrestaurant.com.
Also, individuals can ring in 2010 on the beach as The Hangout hosts its New Year's Eve Party. With live entertainment provided by The Adam Holt Band, the party also includes a grand appetizer buffet starting at 9:00 p.m. Reservations are not required but are preferred, and each reservation receives a complimentary bottle of champagne and party favors. Tickets are $35.00 per adult or $20 for those individuals age 16 and under. Reservations can be made by calling 251-948-3030. For more information, visit thehangoutal.com.
Finally, the Flora-Bama Lounge and Package will have a New Year's Eve Bash featuring three stages of entertainment, party favors, champagne split and a dinner and breakfast buffet. Admission is $21.00 in advance (through December 27) and $26.00 the week of New Year's (December 28-31).
After counting down the New Year, experience another tradition with the Annual Polar Bear Dip at the Flora-Bama. Suit up in that favorite summertime beach swimwear for a refreshing plunge in the sometimes chilly gulf waters. Festivities begin at noon on New Year's Day, and all brave participants will receive a helping of the traditional black-eyed peas.
For more information on either event, visit florabama.com, or call 251-980-5118.
Then, be kind to the family, and make a New Year's resolution that is easy to keep. Treat those loved ones to another rejuvenating vacation on Alabama's Beautiful Beaches in 2010.
###