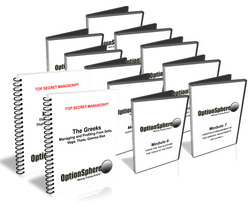 Investors can earn substantial monthly income with only a small amount of capital by selling "iron condors" in a sideways market!
Alpharetta, GA (PRWEB) December 1, 2009
Option training website, OptionTradingBusiness.com proudly reports that traffic and sales are up 23% and 27% respectively for the month of October over the previous month. Option trading is booming and investors increasingly see trading options as a "must-have" portion of their portfolio management and more and more investors are seeking effective ways to "learn options trading" for profit and protection, says Certified Financial Planner, MJ Orr.
There is an intriguing and growing trend of investor interest in option trading, are also indicated by new figures announced by the CBOE Futures Exchange. The facts show that October was the most active month of trading during 2009 and the second-busiest ever in history.
Average daily volume during October 2009 was 8,548 option contracts, a rise of 58 percent over 5,404 contracts per day during October 2008. When compared to 6,858 contracts per day traded during the previous month, average daily volume during October was up 25 percent as more investors are jumping in and utilizing various option strategies.
There are many stock option strategies that investors are utilizing more than ever before. Some investors are simply buying puts as an insurance policy against another steep decline in the market. By buying puts on select stocks or even an index like the NASDAQ 100 (QQQQ), investors can feel a little more comfortable in owning equities (either individual stocks, ETFs or mutual funds) because although the value of their other holdings would go down should the general market fall, the value of any puts that those investors own would likely rise.
Other investors are simply selling options for monthly income. There are multiple ways to do this and some involve more risk and profit potential than others.
One popular strategy is to sell what is known as covered calls. A covered call option strategy is when an investor owns the underlying stock and then sells the right to someone else to buy those shares at a pre-determined price within a given period of time. For example, if an investor owns 200 shares of IBM stock (trading at $130 for example) and doesn't want to sell the shares at the current price, but also does not feel that the shares are going to rise very much in the short term or is even bearish in the short term, there is a potential option strategy.
That investor could sell the right to another party to buy those shares during the next month for $135 a share for a premium of $1.50 per share or $300 for 2 option contract (100 shares per contract). One might want to repeat a similar process month after month as long as the investor remained only slightly bullish, neutral or bearish on the overall US large cap stock market to earn additional monthly premium income totaling perhaps $3,600 annually or about an additional 13% annual return.
And assuming the investor had bought the IBM shares at less than the option strike price in any given month, the worst that could happen is that she sells her shares for a profit (albeit perhaps much less
than the current market price should IBM shares soar in any month).
There are literally dozens of option trading strategies for all types of markets allowing investors to profit whether the market goes up, down or sideways. Depending upon the anticipated market conditions or how an investor views a specific stock, there is a strategy which allow for the investor to profit.
For example, in the options trading training given in the A-Z instructional course offered by OptionTradingBusiness.com, it teaches (through over 20 hours of video training) market neutral strategies where investors can profit if a stock or index trades within a fairly wide range during the 30 day front month option expiration period. One of these strategies is called an iron condor and another strategy is called a double diagonal. Both strategies generate monthly income from either indexes or individual stocks – without owning the underlying issue so investors can profit with very low investment capital.
These names may sound like complicated strategies, but they are quite straight-forward once investors are trained properly. The strategies also allow investors the luxury of overseeing their option trades in about 10 minutes each day or evening as a stock or index would have to make a major move in one direction or another before the investor would need to make a trading adjustment.
Mr. Orr believes that nearly every investor should at least become informed about option trading and consider learning some basic option trading strategies and maybe even begin "paper trading" with imaginary money to gain skills and confidence. Interested investors can get started by getting 8 FREE option trading training videos by visiting http://www.OptionTradingBusiness.com
###