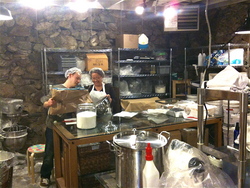 I was shocked and yelled that we had to get to a computer.
Bountiful, Utah (PRWEB) December 4, 2009
In a small pioneer-era barn-turned-boutique stands Peggy Wilson & Landon Brimley in a hairnet and apron, mixing fresh bath salts. They hand-make USDA organic personal care products for Bubble & Bee Organic, a small, growing company that sells online and in more than 60 stores nationwide. A full day's work may create only a few hundred bath and body products for the company.
So, when Bubble & Bee received orders for over 6,500 bath salts, they didn't celebrate. For a week-long "Cyber Monday" sale, the company marked down a number of their products. But late on Tuesday night, founder Stephanie Greenwood made a programming error, putting the bath salts on sale for 50 cents, not 50% off as intended. To make things worse, the mistake went viral when someone posted it to http://www.slickdeals.net, a website where people post internet deals and pricing mistakes. Within forty minutes, http://www.BubbleAndBee.com received more than 400 orders for the unintended deeply discounted bath salts that were meant to be marked down from $13.95 to $7.47.
"We were excited at first, when we saw we were getting so many orders," says Greenwood, "But then we saw the mistake." Greenwood was delivering an order to Harmon's Grocery Stores, so she couldn't see the e-mails that were coming in from faithful customers telling them about the error. Thirty minutes later she checked her iPhone and saw there was something wrong.
"I was shocked and yelled that we had to get to a computer," says Greenwood. Her partner, Steve Thomas calmed her down and they called an employee at the office and walked him through how to fix the error on their site.
Bubble & Bee, which employs one full-time and three part-time employees, says there's no way they could fulfill all the orders, especially at the discounted price. But, as a gesture, the company is offering a free "Large 'Oops Bath Salt" plus a 20% storewide discount to all the savvy deal finders who order after the mistake.
"We're trying to make the best of the situation," adds Greenwood. "Now we have to sift through more than 400 orders and figure out which ones to cancel, and to e-mail all the customers. But, most people have been understanding, once they learn how small we are." Greenwood says they've learned a great lesson.
# # ##