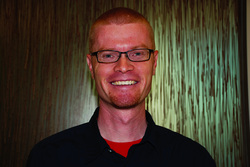 Dallas, TX (PRWEB) December 1, 2009
Brian Mosley has been chosen as the new President of Bluefish TV in Dallas, Texas. The announcement was made at a staff meeting of over 100 team members on November 18th by the Chairman of the Board, Michael Heflin.
Brian, 31 years old, will serve as President of both The RightNow Campaign (http://www.rightnow.org) and Bluefish TV (http://www.bluefishtv.com). The RightNow Campaign is asking people to trade in the pursuit of the American dream for a world that desperately needs Christ.
Since 2000, RightNow has delivered that message through numerous church leadership development conferences with Francis Chan, Erwin McManus, Matt Chandler, Mark Batterson, George Barna and others in Dallas, Orlando, Seattle, Washington DC, and Denver.
The RightNow Campaign will now have additional opportunities to serve pastors and small group leaders by working with the Bluefish TV team to create video driven small group studies and leadership tools that inspire people to make a difference in their community and around the world.
Over the last twenty years, Bluefish TV has partnered with Doug Fields, Donald Miller, Chip Ingram, Margaret Feinberg, Drs. Les and Leslie Parrott, Louie Giglio and others to create video series for small group Bible study. Over 110,000 churches in the United States, Canada, England, Australia, and South Africa have used resources from Bluefish TV.
The former President, Marty Mosley, will continue working with the Board of Directors in developing strategic initiatives and partnerships with other ministries.
Brian is married to Julie and they have 3 children. Brian also serves on the leadership team of their home church.
About Bluefish TV:
Bluefish TV is a non-profit Christian video ministry that has produced video sermon illustrations and small group Bible study resources for youth groups and pastors for over 25 years. Bluefish TV has worked with Christian leaders including Erwin McManus, Louie Giglio, Donald Miller, Todd Phillips, Margaret Feinberg, Beth Moore, Doug Fields, Drs. Les and Leslie Parrott, Mercy Me, Chris Tomlin, David Crowder and Jars of Clay to produce relevant resources for 93,000 churches across the country. Bluefish TV also has a passion and commitment to world missions and has participated in projects around the world to tell missionaries' stories of faith and sacrifice.
You can view full video previews and purchase each small group study and video illustration at http://www.bluefishtv.com. Some Bluefish TV resources can also be found in stores and on the websites of their ministry partners: LifeWay, Cokesbury, Mardels, Family Christian and Simply Youth Ministries.
Contact: Samantha Krieger
Writer/Content Editor
Bluefish TV/RightNow Campaign
972.560.5600
http://www.bluefishtv.com
Samantha (at) Bluefishtv (dot) com
###