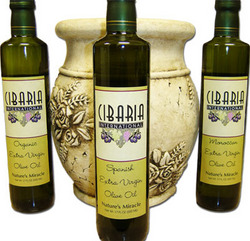 "Olive Oil has been the core of our business"
Riverside, CA (PRWEB) December 11, 2009
Currently in its 11th year of operation under president Kathy Griset's lead, Cibaria International has leaped past the growing pains of a rapidly expanding business, with a passionate attitude towards its products and its customers. With newer offerings such as retail lines, private label programs, etched bottles, a recyclable tote program, online personal care raw ingredients, and a solid plan to better serve their clientele. Cibaria will certainly be a busy company in 2010.
Additionally, Cibaria has launched an online retail store that is full of appetizing gourmet olive oils, specialty oils, and balsamic vinegars. Cibaria has also expanded its bottling capabilities by adding a high-speed net weight filler, which puts them right on target to faster fulfillment . With all of these additions, Cibaria possesses the perfect ingredient for yet another exhilarating period of rapid growth.
The 10 year anniversary for Cibaria marked a monumental move, as they picked up their entire operation and moved to a brand new, state-of-the-art facility in Riverside, California. From Cibaria's humble beginnings within the walls of an aged Rancho Cucamonga, California winery, to now being armed with a building that is double the size of its predecessor, Cibaria has been positioning itself for growth in an incredibly strategic manner.
In addition to the expansion factor, Cibaria's passion for olive oil has never ceased during its climb to success. Founder, Kathy Griset has traveled the world procuring the very finest products from some of the oldest and the most traditional olive oil and balsamic vinegar producing families in the Mediterranean, making them readily available to their customers. From there, it's been a natural expansion into Specialty Oil, Certified Organic Oils, Non GMO Oils, Vegetable Oils, and Aerosol Oils. Cibaria has long been a front runner in the pursuit of becoming the industry's natural choice for oils and vinegars.
President, Kathy Griset offers the following advice to retailers: "Buy from a supplier you can trust, as there are a few people selling adulterated oils. Carry a variety of products, so that you have oils to meet different needs. In fact, a tasting bar is a great way to let your customers know what you have to offer (by the way, we have everything you need to set up this in a small or big way).
One may wonder what fuels such a passion for olive oil? "I love the diversity of oil, and the anticipation of every year's new crop" says Ms. Griset. "I can't wait to taste the differences in the oils which can range from subtle to extreme. The geographical region, variety of olive, climate, and harvesting techniques define the final organoleptic experience. Finding an exceptional oil at a great price is the highlight of my job. Olive oil has been the core of our business" Ms. Griset ardently explains.
Cibaria is so keen on olive oil, that they've added a signature olive oil to their retail line that actually bears Cibaria's own name. "Our signature brand embodies all of what we love in an olive oil. We have merged the flavors of three varietals, with each contributing a unique quality to the finished product. Arbequina is used for its buttery finish. Picual, for its aromatic fruitiness and peppery finish. And Hojiblanca is added for pungency. We are exceedingly proud of this oil, and all of the superb oils we have to offer." adds Ms. Griset.
###