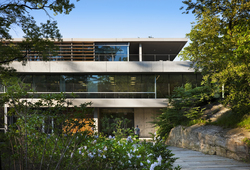 "The new Center for Global Conservation is a powerful statement of conservation through architecture."
New York, NY (PRWEB) December 1, 2009
The Center for Global Conservation (CGC), a new 40,000-square foot building situated on 4.5-acres on the Bronx Zoo campus in Bronx, New York, has opened as the headquarters for the Wildlife Conservation Society (WCS). Founded in 1895 as the New York Zoological Society, WCS manages more than 200 million acres of protected areas and wildlife around the world with more than 500 projects in 65 countries. The Center for Global Conservation accommodates more than 100 WCS conservationists, researchers, and support staff.
"The new Center for Global Conservation is a powerful statement of conservation through architecture," states Sylvia Smith, FAIA, LEED AP, Senior Partner at FXFOWLE Architects. "CGC embodies the Wildlife Conservation Society's mission of preserving wildlife and wild lands, as well as the organizational synergy of its international programs. It is a true reflection of economic, social, and environmental sustainability."
"Natural integration with the building's surroundings, efficiency, and the concept of synergy inspired and informed our design," continues Ms. Smith. "CGC harmonizes with its natural setting, respecting the intimate quality of the landscape while optimizing solar orientation and capturing views. The three-story building was sited to maximize its relationship with existing trees in the park and incorporates elements of the natural topography and nearby rock outcroppings."
Certified LEED (Leadership in Energy and Environmental Design) Gold by the United States Green Building Council, the Center for Global Conservation's linear form is oriented along an east-west axis and is powered by a cogeneration plant. Consequently, CGC takes advantage of natural daylight and consumes approximately 49% less energy than a traditionally powered building of similar size. CGC also incorporates an intensive green roof planted with local grasses, flowers, and shrubs, which reduces temperatures inside the building and reinforces the relationship of the building to the surrounding landscape.
About FXFOWLE Architects | http://www.fxfowle.com
Founded over 30 years ago, FXFOWLE Architects is an architectural, interior design, planning, and urban design firm with offices in New York, Washington, D.C., and Dubai. The firm's work has garnered international recognition for its design quality, technical innovation, and environmental responsibility. FXFOWLE's current select projects include a new projected LEED Platinum headquarters building outside Philadelphia; Eleven Times Square, a new 1.2 million-square-foot, projected LEED Gold Class-A office building in Manhattan; four mixed-use parcels in the King Abdullah Financial District in Riyadh, Saudi Arabia; and the Rockefeller Brothers Fund Corporate Headquarters in New York, projected to achieve LEED Gold certification.
###