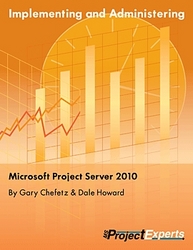 We're making the modules available as a free download as part of our continuing commitment to the Microsoft Communities
New York (PRWEB) December 1, 2009
Today, Microsoft Project Server 2010 Beta users get an implementation boost from MSProjectExperts, which released Beta versions of the installation modules from Implementing and Administering Microsoft Project Server 2010 for free download. The modules cover both Microsoft SharePoint Server 2010 installation and Microsoft Project Server 2010 installation and basic configuration.
"We're making the modules available as a free download as part of our continuing commitment to the Microsoft Communities," said Gary Chefetz, Microsoft Project MVP, co-author of Implementing and Administering Microsoft Project Server 2010, and founder of MSProjectExperts. "Microsoft's documentation is understandably sparse when new beta software releases, so we want to provide early beta adopters with an alternative that adds depth and value to the initial installation experience," said Chefetz. The download is available on the company's website.
The sample modules from Implementing and Administering Microsoft Project Server 2010 contain fully-illustrated in-depth installation instructions to guide first-time Microsoft Project Server 2010 users with a visual reference to verify that they are on the correct path when installing the software. The authors, including Dale Howard who is also a Microsoft Project MVP, provide insights into the various software components, explaining what they are and how they contribute to the SharePoint Server 2010 and Project Server 2010 environments. "Where Microsoft provides a dozen or so pages to get you through an installation, these modules dig deeper with more than 110 pages that help you understand the big-picture environment rather than simply providing only the barest steps," Chefetz added.
The modules include descriptive introductions to the various software components and service applications that comprise the Microsoft SharePoint Server 2010 environment and that are leveraged by Microsoft Project Server 2010 to build a complete EPM solution. The authors include copious notations as well as warnings about bugs and "gotchas," along with best practices for installing and configuring the SharePoint and Project Server beta versions. People who download the sample chapters are automatically invited to participate in the private pre-publication book sale that MSProjectExperts conducts 30 days prior to ship date.
About msProjectExperts
MSProjectExperts is a Microsoft Gold Certified Partner and leading provider of consulting services, training, software add-ons, and books and courseware for the Microsoft EPM environment. Headquartered in New York City, msProjectExperts is in its eighth year serving both business and government sectors.
Contact
Jennifer Herman
msProjectExperts
(646) 736-1688 x22
Keywords: Microsoft Project 2010, Microsoft Project Server 2010, Microsoft SharePoint Server 2010, Project Management, Enterprise Project Management, EPM
###