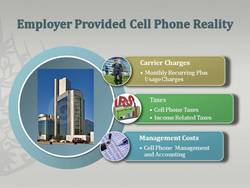 a $40 per month cell phone allowance costs $200 per year in income related taxes
Grand Rapids, MI (PRWEB) December 1, 2009
Study Indicates Employee Cell Phone Allowances Increase Cost By Over $200 Per Year – a new white paper study by Matsch Systems indicates that lost discounts and income-related taxes associated with a $40 per month cell phone allowance or stipend amounts to over $200 per year in additional cost.
This study analyzes the costs associated with employee cell phones to determine the most cost-effective way to control cellular expenses. It reviews the current IRS/Treasury positions on employer provided cell phones, and how those rulings affect the real cost of cell phones for employers and employees. Employers have resorted to stipends or cell phone allowances to avoid the IRS audit threats and therefore remain in compliance regardless of the IRS rulings. A valuable byproduct of personal usage accounting on employer provided cell phones is that it simplifies the justification process since the employer is paying only the fair market value of the business portion of the cell phone expense.
The white paper presents data on the real affect of personal cell phone usage accounting on the cellular cost to the employer. The paper documents the high cost of not accounting for personal usage versus the relative simplicity of properly accounting for it.
Full White Paper : Employer Provided Cell Phone Reality
About Matsch Systems
Matsch Systems, (http://www.matsch.com/CMSaaS) provides turnkey systems and services for managing telecommunication information. Matsch telemanagement solutions are used for call accounting, traffic analysis, directory management, equipment and feature tracking, work order and trouble ticket processing, cable and circuit tracking, charge back billing, the resale of telephone service, rebilling of cellular services, cellular management, and smart-phone call record generating applets. Matsch customers include Fortune 500 Companies, small businesses, state and local governments, hospitals, utilities, banks, colleges and universities.
Established in 1978, Matsch has installations throughout the United States and several foreign countries. Utilizing the latest in service models, Matsch has developed a comprehensive suite of SaaS (Software as a Service) telecommunication management applications that it hosts for its clients. Matsch's leading services include: NET-Phacs Call Accounting, NET-Phacs Plus Enhanced Call Accounting, NET-Bill Telephone Services Resale, CMS / Cellular Management Service, CMS+ / Cellular Management Plus Services, CRS / Cellular Rebilling Service, MobilNow / Cellular Call Record Generator Applet. Matsch Systems is a subsidiary of Matsch Financial Systems, LTD of Grand Rapids, Michigan, USA.
Keywords –
cellular, cellular management, cellular accounting, BlackBerry, call accounting, cellular call accounting, employer provided cell phone, cell phone benefit, IRS, cell phone stipend, cell phone allowance, stipend, allowance, carrier agnostic, cellular carrier, workforce management, cost recovery, client billing, workforce tracking, wireless, smart phone, SaaS
###