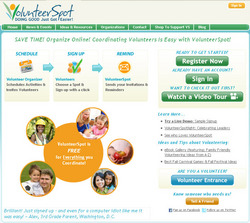 We aren't saying that a scented candle or box of candy isn't appreciated
Austin, TX (PRWEB) December 2, 2009
VolunteerSpot (http://www.VolunteerSpot.com), in the midst of great momentum and surpassing 100,000 volunteers since public launch in Spring 2009, reminds parents the very best gift they can give a teacher this holiday season is the gift of time. Many teachers are desperate for parent support and involvement in their classrooms and activities. And in this continuing tough economy, time is still free! VolunteerSpot, a free online planning tool to sign up and coordinate volunteers, makes it easy for teachers to let parents know where they need them, for what, and when, and for parents to sign up and help.
"We aren't saying that a scented candle or box of candy isn't appreciated," said VolunteerSpot CEO Karen Bantuveris. "But there is more and more need for parent help in the classroom. Match that with parents who struggle with how they can get involved, and what a teacher would really appreciate and value, and frankly the realities of their checkbook this year and voila! You have a beautiful solution and a collectively generous gift that benefits everyone, including the kiddos."
With modest funding and a focus just on helping people do good, easier, VolunteerSpot has helped 100,000 people - and growing - do good in the real world: supporting schools and local nonprofits, community groups, congregations and sports teams. What started with intentions of using technology to automate and organize one Austin PTA is literally growing by thousands every week. As we enter the homeward stretch of 2009, and the focus turns to holiday shopping, and gifts, VolunteerSpot reminds parents to make their gift, around this holiday season and beyond, their time.
"We've just finished Thanksgiving which tends to put giving back in the spotlight," added Bantuveris. "At VolunteerSpot we urge people to keep that focus front and center, yes for the rest of this holiday season, but throughout their daily lives as well."
VolunteerSpot can help right now to ensure people are always involved, but especially around National Volunteer Week, coming up April 18-24, 2010. There is a growing volunteerism movement in the U.S., which VolunteerSpot taps right into.
Other Value From VolunteerSpot:

A free eBook on how to build volunteering into family traditions: Family Friendly Service: Ideas from A-Z (http://www.VolunteerSpot.com/ebooks/FamilyVolunteering)
A Giving Tree Giveaway promotion, in partnership with the Arbor Foundation: plan a holiday service activity on VolutneerSpot and Arbor Foundarion will plant a tree in your honor in a fire-damaged national forest. To learn more, see: http://www.VolunteerSpot.com/ebooks/GivingTree.
Karen Bantuveris, VolunteerSpot CEO, can also share expert perspectives on cultivating family service traditions, age-appropriate volunteering strategies, and organizing local community service activities, among other volunteering, giving, charity, philanthropy topics.
Karen can also talk about her experiences as a momtrepreneur and quickly turning an idea into a growing company.
And with 100K+ volunteers, VolunteerSpot can also get you references, volunteers or the organizations/teachers needing the help, from pretty much any location across the US.
About VolunteerSpot
Based in Austin, Texas, privately held VolunteerSpot.com is a free Web-based organization tool that powers grassroots volunteering at school and in the community. In less than one year, VolunteerSpot has grown to support more than 100,000 volunteers, all across the U.S. Founded by Karen Bantuveris, a management consultant and mom, who found that traditional volunteer coordination methods could be time consuming, frustrating and caused good people to drop out or simply not bother. VolunteerSpot's easy-to-use online sign up tool saves time, streamlines communication and makes it simple for more people to get involved. VolunteerSpot is perfect for coordinating groups for anything -- PTA/PTO activities, food and toy drives, tournaments, service projects, mentoring sessions, group campouts, Girl Scout cookie booths, book fairs, swim meets, and more. … VolunteerSpot, DOING GOOD Just Got Easier!
###