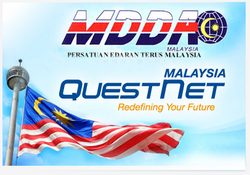 We are indeed proud to be associated with MDDA as the process of getting accredited by the association included reviewing our business plans, our products, and our code of ethics; we passed with flying colours the stringent requirements set by MDDA
Malaysia (PRWEB) December 1, 2009
QuestNet Malaysia has again lived up to its reputation as a leading network marketing company, with its inception as a Corporate Member of the Malaysian Direct Distribution Association (MDDA). This landmark recognises the continued positive growth of direct selling business in Malaysia.
At present, there are 670 direct selling companies registered with the ministry but less than 20 per cent are members of the MDDA and its counterpart, the Direct Selling Association of Malaysia (DSAM).
According to the World Federation of Direct Selling Association's (WFDSA) 2008 annual sales figures statistics, Malaysia is ranked tenth in the world, with annual sales revenue exceeding USD $2 billion. There are currently more than four million direct selling distributors in this country. This averages out to be approximately one direct selling business for every 2.5 households in Malaysia (most of which are multilevel marketing distributors). As a result, Malaysia is the second most network marketing-dominated country in the world.
"Professional marketing and excellent business conduct have always been an important issue to us and we have always strived to ensure our Independent Representatives uphold these values. It is timely that QuestNet Malaysia has been accepted into MDDA," said Mr Navaratnam, General Manager of QuestNet Malaysia. "We are indeed proud to be associated with MDDA as the process of getting accredited by the association included reviewing our business plans, our products, and our code of ethics; we passed with flying colours the stringent requirements set by MDDA."
MDDA is a non-profit organisation that was founded in 1993 to represent direct selling companies in Malaysia and to promote ethical, responsive and excellent business conduct amongst its corporate members in the direct selling industry. It also aims to promote public understanding of the difference between good direct selling practices and pyramid and get-rich-quick schemes. The association also acts as a forum for the public to voice their opinions about various issues related to the direct selling industry.
With solid plans in place, QuestNet Malaysia will continue to prove its prominent position in the direct selling industry in Malaysia.
"I would like to thank our Independent Representatives for their professionalism in the market place, enabling QuestNet Malaysia to be recognised by the MDDA," said Mr Navaratnam. "Together, we shall continue to set the standards of network marketing and be the benchmark for other companies to emulate."
For more information about MDDA, visit mdda.org.my/.
About QuestNet Malaysia
QuestNet Malaysia is a licensed network marketing company established in 2008. QuestNet Malaysia offers a high-quality product portfolio consisting of innovative lifestyle products, including consumable and everyday items, personal care and wellness products, luxury and collectible items, and telecommunications.
The company also presents a well-proven business opportunity for people to start and run their own business without the need for the usual overheads, inventory or storefronts. The business opportunity is inherent in the promotion of the QuestNet Malaysia business and products. The company provides the Information Technology knowledge and business tools for its Independent Representatives (IRs) to successfully run their business, whether it be on a full-time or part-time basis.
QuestNet Malaysia is an Associate Corporate Member of the Business Ethics Institute of Malaysia (BEIM) and a Corporate Member of the Malaysian Direct Distribution Association (MDDA).
For more information about QuestNet Malaysia, visit quest.net.my.
###