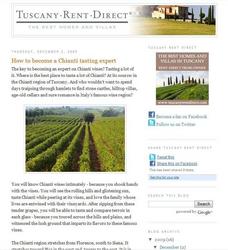 Cascade, WI (PRWEB) December 3, 2009
Tuscany Rent Direct – Castellina in Chianti – December 3, 2009 – Tuscany Rent Direct, a unique "rent direct from owner" website, and one on the only ones to actually be located in Tuscany, has relaunched their blog and entered the social networking world.
Tuscany Rent Direct will be featuring new and exclusive content on the best of Tuscany on a weekly basis on their newly updated blog. Some of the articles already published focus on fall an and winter activities and include one about truffles and the annual truffle festival in San Miniato, and another about the "Olio Nuovo"- the new olive oil and the olive harvest which traditionally takes place during November.
They also mix in a selection of their hand picked villas and apartments for rent in Tuscany, and other shorter posts about local events, things to do, and photos from around the region.
You can find the first articles here:
Just-pressed Olive Oil:
http://tuscanyrentdirect.blogspot.com/2009/11/want-to-taste-just-pressed-olive-oil.html
World Famous Truffles:
http://tuscanyrentdirect.blogspot.com/2009/11/november-is-time-to-visit-tuscany-for.html
The newest feature is an introduction to wine from the Chianti region, and explores the different classifications (IGT, DOC, DOCG) and what to look for when tasting these wines:
http://tuscanyrentdirect.blogspot.com/2009/12/how-to-become-chianti-tasting-expert.html
Social Networking
Tuscany Rent Direct has also have entered the world of social networking – now when searching for properties on their website, you can share the villas and apartments you find directly from Tuscany Rent Direct on Facebook and Twitter – just look for the the Facebook Share and Tweet buttons on the property pages.
Find Tuscany Rent Direct on Facebook:
http://www.facebook.com/pages/Tuscany-Rent-Direct/111415914764
And on Twitter:
http://twitter.com/tuscanyrentdire
For more information, contact:
Tuscany Rent Direct
Via delle Mura 6
53011 Castellina in Chianti (SI)
Italy
Tel. +39 (0)577 1701111
Fax. +39 (0)577 1701112
http://www.tuscanyrentdirect.com
info (at) tuscanyrentdirect.com
###