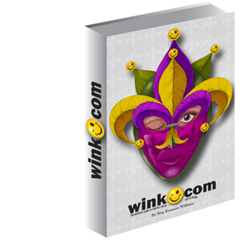 "You know it's good when you can't put it down and don't eat before you've finished reading." --Mark, 52 yr.old male
New Orleans, LA (PRWEB) December 14, 2009
In her new e-book WINKdotCOM, and on her blog http://www.secondchancedatingonline.com, New Orleans Author Rita Kranson Williams shows that, from traditional dating ages on up people are the same. The trick to dating (or dating again) is to get it right this time. A few years ago people might have been reluctant to admit they were using the internet to find a date. Recent research shows that, in 2008, online dating led to about 20% of all marriages that year. With its funny, real-life online dating examples, warnings, suggestions and observations, WINKdotCOM is throught provoking and full of "aha" moments throughout. For a limited time the author offers a holiday cost reduction! The ebook (regularly $27) is available for only $14.95!
Every day the following comments come up worldwide in casual dating-related conversations:

I met my boyfriend (girlfriend, best friend, husband, wife) online.
My sister (brother, cousin, friend, grandmother, grandfather, daughter, son, mother, dad) met his/her significant other (husband, girlfriend, boyfriend, wife) online.
How does inernet dating work? I'd like to try it.
I tried internet dating and this is what happened to me.
Does anyone know how to write an online dating profile? I've been trying to write a dating profile for an online dating site and I don't know where to start. Is there anyone out there who can write one for me?
I'm afraid to try online dating, but I don't want to meet someone in a bar either. I've just about given up on trying to find someone.
I just got out of a long-term relationship and want to start dating again. I don't know how to begin again in finding someone to love. Is online dating safe? I'd like to know more about it so I can decide if internet dating is an option for me.
Author Rita Kranson Williams jokes that, at age 50-something, she hadn't had a "date of the non-dried fruit variety" for some years. This was true, she says, "for a very good reason."
When a male friend asked Kranson Williams to help him write a profile for an online dating site, she was happy to comply. Then, it hit her. "If I help all my friends to find someone, who will I do things with myself?" she thought.
So, Kranson Williams began her own adventures,which she, and her main character "Elizabeth" describe as a "one year period of serial online dating."
On this journey, they (she) met :
Mr. Romance Scammer
Mr. Food Police
Mr. Handle the Merchandise
The Baby (Much Younger Man)
Mr. OMG (Oh My God)
Mr. Recently Separated
Mr. Throw Caution to the Wind
AND

Kranson Williams writes about Bachelors 1-8 in her e-book, but she remarks she "wasn't brave enough to actually include a chapter in the book about Mr. Pervert" who she met "exclusively via video cam." In internet language terms, she thought that chapter would be TMI (too much information).
WinkdotCom and http://www.secondchancedatingonline.com take readers/bloggers through these adventures, which Kranson Williams describes as "real life dating dramas (traumas) of a 53, 54, 55 year old divorcee and her friends."
She also remarks throughout the book how surprised she is at how little dating has actually changed since she was a teenager. She says she is also reminded of that fact by listening to her teenagers' dating stories.
In addition, to funny, real-life stories the blog and book combo offers:
Tips for writing effective dating profiles for use online (Kranson Williams will write a reader's online dating profile for a fee)
Information about how to spot Romance Scammers (liars and con artists)
Safety tips for first dates
A look at how the author's evacuation after Hurricane Katrina affected her dating life and her weight
Reminders that people dating again are not alone
Suggestions for how to put "best self forward"
Hints to help keep a sense of humor when dating again after a dry spell
How to get back into dating again through online sites
Ttips for online (and other kinds of) dating AND
Samples of "catchy" AND uneffective dating profile headlines.
In case you're wondering, Kranson-Williams did actually meet someone online and they have been together trying to make it work for the past two years.
The author remarks that she "went through the whole dating thing in my teens and twenties, and I did it again in my 50s. This time, I hope I've learned enough so that I won't have to embark on the journey again in my 70s."
"One of the main things I want to do by publishing this book and blog is to encourage people not to give up on finding someone to share things with.
"I try to encourage people my age to use a computer, Facebook, Twitter, and online dating services. I also try to get them not to be afraid to use a secure payment method online. After all, millions of people are doing these things successfully," Kranson Williams concludes.
For the record, Kranson Williams says her book and blog are not only for singles. "Married people or people in relationships can learn how to appreciate the fact they don't have to resort to internet dating," she jokes.
The author is offering a holiday price reduction (regular ebook price is $27, now available for $14.95) so "readers can find someone to share Valentine's Day with in 2010."
# # #