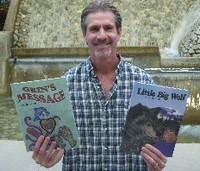 Los Angeles, CA (PRWEB) December 3, 2009
Carlton Scott RN, hopes to bring holiday cheer to children nationwide with his self-published and self-illustrated picture books. Having already sold nearly 7,000 copies since their initial distribution in 1999, "Grin's Message," and "Little Big Wolf," deliver positive messages with bright, cheerful hand-drawn illustrations.
The hardback books can be purchased together from his Web site for $16, and are all autographed by the author. Both books were given a five star review by Amazon.com.
Scott will be releasing his third illustrated book, "Glamour Girl from the Stars," in April. His books are geared towards children ages eight and under.
"My biggest inspiration is Dr. Seuss. I've seen how his books cheer up kids and I want my books to do the same," he says. "Working with a lot of sick children for so many years motivated me to do something more to lighten their day."
Scott has been working with children for 15 years and began his career in child psychology as a mental health counselor. He quickly discovered that he wanted to devote his career and spare time to bringing happiness to sick children. He aims to write a new book every year.
Working alongside his wife, Annie, also a traveling nurse, lends him an incredible support system. They both share the same dedication to helping children.
When Scott isn't traveling to hospitals as a nurse he is visiting elementary schools where he talks to children about the importance of reading and writing.
Scott's playful rhymes and illustrations are ideal for not just children in need of cheering up, but for all children who enjoy lively stories.
Both books tell uplifting, imaginative stories. "Little Big Wolf" tells the story of a boy named Nathan who dreams that he befriends a wolf pack in the Rocky Mountains. "Grin's Message" follows Grin, the dolphin, as he makes friends and resolves conflicts under the sea.
Scott does all he can to spread cheer to sick and hospitalized children, including sending his books directly to hospitals. One thank you letter from the Los Angeles Children's Hospital expresses the importance of the care paid to the children: "Our patients so crave normality and hope, your gesture gives them exactly that. They know that someone beyond these walls is concerned enough to care – that someone is you! Please know that you have made a real and significant impact on their fragile lives."
While his books are geared towards children eight and younger, the stories and images can be enjoyed by readers of all ages. As his home pages states, "Books for Children ages 3 to 80."
For more information about Carlton Scott and to buy his books, visit his Web site, http://www.CarltonsBooks.com.
###