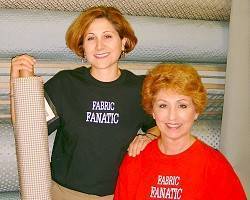 Lara Eddleman one of the owners says" its great to see customers delight when they find just what they are looking for at a great price."
Cumming, GA (PRWEB) December 4, 2009
Design Finds recently opened a new Fabric Superstore in Cumming, GA. The new location, in Settendown Village, faces HWY 400, and offers better shopping convenience for North Georgia decorating enthusiasts. The store is packed with interior designer fabrics and other home decor items that will compliment the beauty of any home. Not only is Design Finds a treasure for do-it-yourself-ers, but they also offer full interior design services, specializing in custom designed window treatments and re-upholstery. This fabric superstore is packed with more than just fabrics. It has many other items and gifts that are a dream for decorators to discover. Lara Eddleman one of the owners says" it's great to see customers delight when they find just what they are looking for at a great price!"
Design Finds offers the very best in interior decorating, offering fine fabrics and fringes and select home décor and accent furnishings (including lamps, artwork, florals, rugs, gifts, and more), all with helpful service and wonderfully affordable prices. For do-it-yourselfers, this superstore has almost everything one would need to embellish their home. The fabric and decorative fringe choices are amazing; plus there are many unique furnishing treasures to discover in the store. Many shoppers also browse their website for interior design ideas, coupons and online specials. The website has an extensive collection of fabrics that can make any design project easier and more manageable.
Design Finds provides professional decorating services, specializing in custom window treatments and bedding, upholstery, custom-order fabrics and furnishings, and custom blinds and shutters. Their design team has extensive training and "know how" for decorating homes by making their client visions come to life. They can help with anything a home may need including fixtures, faux-finishing, murals, and even Eastern Rugs. Interior decorating is both an art mixed with practicality and comfort. That is why they listen to each client and ask questions so they fully understand their customer's goals. They then develop plans around their customer's needs and idea of design. An integral and satisfying experience is the Minutes Matter software-aided drawings Lara generates, showing the customer's window treatment selections drawn in the customer's room, "painted" with the customer's fabric choices. Lara says, "All our customers are amazed when they can REALLY see what their ideas will look like, before they commit to the purchase. This really gives them the confidence they want in their choices." The outcome of this is to help their customers make a statement through their home's look and feel. They never take a cookie cutter approach, so each design consultation is unique with a desire to bring casual elegance to each customer's home.
Design Finds has one of the largest selections of home decor and fabrics in Georgia. This combined with everyday low prices makes it a place that other in the interior design businesses use for their own design projects. Design Finds has a long history of working closely with other interior design firms and Georgia interior designers know that they can trust their confidentiality and professionalism. Designers are always impressed with the vast array of fabrics. Plus, due to their years of design experience, many designers love to bounce ideas off of them. Their new fabric super store in Cumming, Georgia will add more convenience for their professional decorator clients.
Design Finds' owners, Barbara Cavender and Lara Eddleman, have operated the fabric and design store in North Georgia together for 10 years as mother and daughter and also as best friends. The opening of their new super store in Cumming, Ga. launches a new era in the Design Finds story. Barbara received a bachelor's degree from Mercer University specializing in art work with extensive experience in ceramic arts and custom painting and murals, as well as home decorating, custom sewing, and designing custom silk floral arrangements. She currently enjoys expanding her creativity through wood turning arts and pottery throwing. Lara received her BA in Business Management from North Georgia College and State University. Lara has over ten years of professional residential design experience. Lara is a Certified Window Coverings Designer and Installer with the Window Coverings Association of America.
# # #