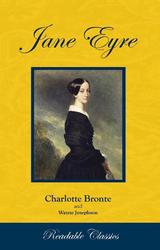 The classics are absolutely spellbinding if you can just decipher them.
Charlottesville, VA (PRWEB) December 1, 2009
Causing an uproar among literary purists, Readable Classics announces the release of Jane Eyre by Charlotte Bronte and Wayne Josephson, the debut publication in a series of rewritten works of great literature. Sample chapters of Jane Eyre, The Scarlet Letter, and Moby-Dick, available at http://www.ReadableClassics.com, reveal that these works are not contemporary retellings, but rather gentle edits of the originals that retain their essence and spirit, updating arcane language to make them more appealing to modern readers.
"Great literature is incomprehensible to most people without a Masters degree in English," says Wayne Josephson, publisher of Readable Classics. "Yet the classics are absolutely spellbinding, if you can just decipher them. That is our goal--to make them more approachable and less ponderous, so that the rest of us mortals can finally enjoy them."
Jane Eyre is a novel of stunning power, romance and suspense. She was the first heroine in the history of English literature--the astonishing journey of a poor orphan girl who overcomes cruelty, loneliness, starvation, and heartbreak on her quest for independence. It is the story of every woman who struggles for equality and dignity in a society that wants to deny her those rights--as true in Victorian England as it is today. The novel was an instant bestseller in England in 1847, and yet Charlotte Bronte had to publish under a male pseudonym.
Readable Classics will publish The Scarlet Letter in December and Moby-Dick in January. Other releases scheduled for 2010 include Pride and Prejudice, The Odyssey, and Wuthering Heights.
For additional information, or to request complimentary review copies of Jane Eyre, contact Wayne Josephson or visit http://www.ReadableClassics.com.
About the Company
Readable Classics, an independent publisher based in Charlottesville, Virginia, gently edits the works of great literature to make them more accessible to modern readers.
###