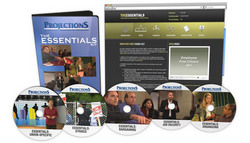 Unions today are in a no-holds-barred fight for new, dues paying members.
Norcross, GA (Vocus) December 1, 2009
Due to the significantly increased political influence of organized labor, the threat of a potential organizing drive has many union-free employers searching for resources that will help them communicate their union-free philosophy. Projections, the leading provider of employee communication resources, today announced the release of their new "Essentials" DVD and website Kit, offered as "The Ultimate Union Free Solution." This video and web series is the first-to-market-solution created to address employer needs relative to the currently anticipated changes in labor law.
Momentum surrounding the passage of the Employee Free Choice Act, in one form or another, continues to be cause for concern. This divisive bill seeks to allow certification of a union based on a "card check" scenario, as well as arbitrated collective bargaining and increased penalties for employers. Proposed compromises include a shortened petition – to- election timeframe, and as this legislation makes its way through Congress, it's imperative that employers begin educating their workforce in order to avoid the potential risks associated with union involvement.
"Unions today are in a no-holds-barred fight for new, dues paying members." explained Projections CEO, Walter Orechwa. "Good, honest, Union-free employers are being placed in a precarious position, and we hope this resource will give them a powerful way to communicate with employees regarding their union-free philosophy. We've found that with less than 8 percent of the private sector belonging to a union, companies are communicating with workers who have little to no experience in dealing with a union organizing campaign. That lack of knowledge can make employees more susceptible to promises of more money, or better working conditions, or whatever similar issues a union organizer might promise to address. The Essentials fills the employer's need to train and educate employees, so that those employees may make an informed decision about unionization."
Presented in spectacular high-definition video, The Essentials includes programs on Organizing, Bargaining, Job Security and Strikes, as well as a union-specific program to address the current membership, finances, and history of the union targeting- or most likely to target- those employees. Even more compelling is the union-specific companion website, accessible to employees and their families, 24-7. This element of the kit is vital in addressing the shortened timeframe to the actual vote.
"Because unions have become very savvy – putting up anti-employer websites that collect employee information, damage corporate reputation and garner community support for an organizing drive – companies must be equally vocal in letting employees know the truth about what unions are all about," said Orechwa, "We developed these websites to be targeted, specific, powerful, and instantly available, to address the needs of employers faced by organizing or cardsigning activity."
Employers interested in additional information on this resource can visit http://www.unionessentials.com or contact Projections at 877-448-9741.
About Projections
Projections provides the employee communication resources that help companies address their most significant challenges. Projections specializes in labor relations, and offers both custom and "off the shelf" video, websites and eLearning. Projections focuses on helping these employers reach goals they might never have otherwise attained. With the most advanced technology available, Projections' work reflects the highest level of quality in videos, websites and innovative eLearning solutions for clients throughout North America. Areas of expertise include Employee Orientation, Training, Labor Relations, Company Benefits, Corporate Image and Change, and Workplace Issues such as Diversity, Harassment, and more. After more than 30 years in business and dozens of industry awards, Projections is proud to work with some of the largest - and smallest- employers in the world. Visit Projections on the web at http://www.ProjectionsInc.com.
SOURCE: PROJECTIONS, INC.
###