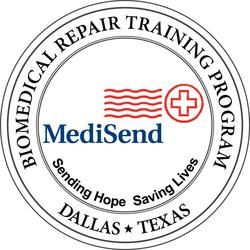 "MediSend's experience and expertise in biomedical technologies will greatly enhance the Mercy Ships mission to deliver hope and healing,"says Don Stephens, Founder/President of Mercy Ships.
Dallas, TX (PRWEB) December 1, 2009
With the recent signing of a Memorandum of Understanding, Mercy Ships and MediSend International have formalized a partnership to help develop sustainable infrastructure in hospitals in developing countries. The two Texas-based humanitarian organizations with far-reaching global footprints will collaborate in comprehensive training programs, including biomedical repair technologies. Their shared efforts will begin in 2010 to benefit the West African country of Togo (the Togolese Republic), a sub-Saharan nation long plagued by poverty, disease and political strife.
Mercy Ships has selected MediSend's innovative Biomedical Repair Training Program™ to augment their work with the world's largest charity hospital ship, the Africa Mercy. The ship includes six state-of-the-art operating rooms, an intensive care unit and ward bed space for up to 78 patients. Volunteer crew members from more than 30 nations serve onboard. Togolese biomedical technicians trained by MediSend will help to carry on and further the work begun by the Africa Mercy.
Trainees will take classes in MediSend's modern educational environment including a state-of-the-art training laboratory located in the Elisabeth Dahan Humanitarian Center, MediSend's headquarters in Dallas, Texas. The MediSend Biomedical Training Program™ and the well-equipped MediSend Biomedical Repair Training Laboratory were initially funded by ExxonMobil to support the mission of improving health care conditions in developing countries. Going forward, MediSend will train and equip biomedical repair technicians for other countries served by the Africa Mercy.
"We are proud and privileged to be partnered with such a prominent and respected organization as Mercy Ships. Our philosophies and values are very much aligned," says Nick Hallack, President and CEO of MediSend International.
MediSend is a recognized leader in providing health care services and support to under-resourced hospitals in developing countries through education, training, technical support and management technologies in biomedical equipment repair, as well as the distribution of life-saving medical supplies and biomedical equipment. MediSend is currently working in Nigeria, Equatorial Guinea, Ghana, the Democratic Republic of Congo, Chad, Liberia and Kazakhstan. MediSend's comprehensive biomedical repair training programs will be the cornerstone of the relationship with Mercy Ships.
"We have chosen MediSend for its excellence in the field of education and training in biomedical technologies and the design of biomedical repair laboratories specifically for developing countries," says Don Stephens, Founder/President of Mercy Ships. "MediSend's experience and expertise in biomedical technologies will greatly enhance the Mercy Ships mission to deliver hope and healing."
About MediSend
MediSend is a 501(c) (3) nonprofit, humanitarian organization that supports under-resourced hospitals in developing countries with a multi-dimensional approach to improving community health. MediSend's mission includes education, training, technical support and management technologies in Biomedical Equipment Repair, as well as the distribution of life-saving medical supplies and biomedical equipment. MediSend is a proud member of The Clinton Global Initiative. For more information go to http://www.medisend.org
About Mercy Ships
Mercy Ships uses hospital ships to deliver free, world-class health care services to those without access in the developing world. Founded in 1978 by Don and Deyon Stephens, Mercy Ships has worked in more than 70 countries, providing services valued at more than $748 million, directly impacting more than 2.16 million beneficiaries. More than 1200 crew worldwide, representing more than 40 nations, are joined each year by 2000 short-term volunteers. Professionals including surgeons, dentists, nurses, health care trainers, teachers, cooks, seamen, engineers, and agriculturalists donate their time and skills to the effort. For more information click on http://www.mercyships.org
###