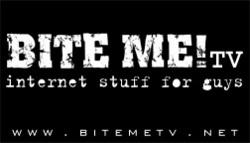 'BITE ME!' is definitely not your mom's cooking show
Buena Park, CA (PRWEB) December 1, 2009
Online video series 'BITE ME! the MAN Cooking Show' recently launched its second season from multiple platforms across the web. Produced by Bite Me TV and billed as one of the only cooking shows on either the web or television aimed specifically at young, single men, 'BITE ME! the MAN Cooking Show' demonstrates cooking recipes aimed at impressing a date in a guy-friendly and edgy format.
"'BITE ME!' is definitely not your mom's cooking show," says Andrew "Druu" Spuur, Executive Producer and Co-Founder of Bite Me TV. "When we started Bite Me TV, we saw that while food programming has been gaining huge amounts of interest and viewership in recent years, there has been close to nothing aimed at young men. Considering that young guys spend most of their energy trying to impress young women, we saw an opportunity to create a show where we can help guys in their quests to wow the ladies by teaching them basic cooking skills and some flashy yet easy recipes."
Season two features Josh Landis taking over as the show's host while season one host and Bite Me TV Co-Founder Joel Bonifacio returns to Executive Producer duties. "Being that we were trying something new and different with this show, we spent season one working on our format," Bonifacio explains. "We knew we needed to provide useful information in a way young guys would find entertaining, so we tried a number of ideas in our six-episode first season, then locked ourselves away to digest our experiences and redesign season 2. There's nothing else out there like 'BITE ME!' and we think we're really on to something."
In each episode of 'BITE ME! the MAN Cooking Show', Josh demonstrates how to cook and present a main dish, appetizer or dessert that is easy to make, uses ingredients and kitchen tools that even poor college guys can afford and has enough "wow" factor to impress a date. To add visual flavor, a delicious female sidekick sometimes joins Josh in the kitchen and every episode includes cutaways featuring a combination of the Bite Me Girls, go-go dancers and models.
About Bite Me TV, Internet Stuff for Guys
Bite Me TV, a Los Angeles-based programming and production company, specializes in short-form, on-demand entertainment for young, single men. The company produces three web video series', 'BITE ME! the MAN Cooking Show', 'Drink 'n Play' and 'Field Trippin', operates a men's lifestyle website and publishes a blog. For more information, visit http://www.bitemetv.net .
About the Host:
Josh Landis is a Hollywood, California-based performer and artist. He has studied acting at New York University, has overseen the Arts and Fashion Design tracks for American Jewish University's study abroad program in Israel, was coordinator, choreographer, host and dancer for shows during the 2008 Olympic Track & Field Trials and is currently working on a Master's degree in Fashion Design at the Academy of Couture Art. In his spare time, Josh enjoys yoga, recycle art, volunteering and the great outdoors.
###