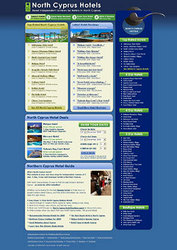 When we first started our North Cyprus review site just a year ago, we were not sure how many people would want to review North Cyprus hotels, or in what level of detail.
Kyrenia, North Cyprus (PRWEB) December 1, 2009
North Cyprus hotel review site NorthCyprusHotels.co.uk now features 300 reviews of hotels in Northern Cyprus all submitted by real holidaymakers within the last 12 months.
At NorthCyprusHotels.co.uk, tourists can search for 57 hotels in North Cyprus, read real reviews, book their next North Cyprus holiday hotel online, and then review it on their return.
North Cyprus resident Izzet Zorlu, founder of http://www.NorthCyprusHotels.co.uk, is pleased with the honesty and detail of reviews so far:
"When we first started our North Cyprus review site just a year ago, we were not sure how many people would want to review North Cyprus hotels, or in what level of detail.
However, we've found that our reviewers often write more than reviewers on other hotel review sites, and they certainly tell it how they see it! If anything at their North Cyprus accommodation is not up to the hotel's rating, they will say so in a review, even if they don't say so at the time of their holiday.
So, we know of several hotels in North Cyprus that check their reviews on our site regularly to ensure they are providing the best service!"
Reviews at NorthCyprusHotels.co.uk cover the whole range of hotels in North Cyprus, from 5 star luxury to budget hotels in Kyrenia. Reviewers can give each hotel a score for Value, Rooms, Location, Staff and Cleanliness, to create an overall score or rating. These ratings are then used to compile the Top Ten hotels in North Cyprus, which appear on the website's main page. Thanks to holidaymakers returning and reviewing hotels all year round at NorthCyprusHotels.co.uk, the top ranked hotels change almost daily!
Popular North Cyprus hotels that are usually in the Top Ten chart include the Acapulco Beach Hotel with probably the best sandy beach in Northern Cyprus, the good value 5 star Malpas Hotel, the family-friendly Pia Bella Hotel, and the elegant Colony Hotel in Kyrenia.
For example, one North Cyprus holidaymaker praised the "comfortable and clean" villas at the Acapulco, and another enjoyed the Malpas Hotel as "an excellent 5 star hotel, way above my expectations, and a real find for a good value holiday in June". The Pia Bella Hotel in North Cyprus won praise too, for "friendly staff, the relaxed feel of the place and the cleanliness. I would not hesitate in joining the majority of the guests we met who were on their 2, 3, even 9th visit", while the Colony Hotel's rooftop pool was appreciated for "Pool loungers wide and very comfortable, with umbrellas and towels supplied."
Top of the list for minor complaints about North Cyprus hotels are the prices of drinks, with one reviewer noting that "their bar was always empty because of the high prices. Why pay 12 YTL for a beer when down the road it was 3?" Some holidaymakers in North Cyprus hotels did not enjoy the "uninspired" buffet meals offered by hotel restaurants, whilst others loved them for their "choice and quality", which only goes to prove you can't please all of the people, all of the time!
Review sites such as NorthCyprusHotels.co.uk are very popular with tourists looking for independent advice on choosing a hotel in North Cyprus. By reading reviews from people who have been to their chosen North Cyprus hotel, eaten the breakfast, sat on the sunbeds and swum in the pool, holidaymakers can make informed choices rather than just relying on brochures or hotel websites alone.
In addition, reviews often include advice on local North Cyprus restaurants and bars, along with a realistic time to walk or drive to them, so often lacking in holiday brochures!
Izzet Zorlu is confident that reviewers at NorthCyprusHotels.co.uk will continue to give fair, honest and balanced reviews of their experiences in North Cyprus hotels:
"Probably due to our simple rating system, most reviews submitted to our hotel review website have struck a nice balance between the good experiences and the not so good. There will always be people who LOVE their holiday, and those who just want to complain, but with over 300 reviews on our site, holidaymakers can read and make up their own minds!"
For more details, go to http://www.NorthCyprusHotels.co.uk
NorthCyprusHotels.co.uk is an independent North Cyprus hotel review website founded by Turkish Cypriot Izzet Zorlu. NorthCyprusHotels.co.uk publishes genuine reviews of hotels in North Cyprus, written by tourist and holidaymakers.
###