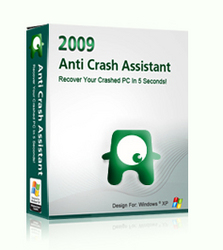 Anti Crash Assistant - A New Way to Fix a Crashed Computer Quickly and Easily.
(PRWEB) December 3, 2009 -
Anti Crash Assistant(ACA) is a revolutionary anti crash software that helps users fix a crashed computer quickly and easily by themselves. With ACA, users can create multiple OS snapshots (more than 1000 snapshots) handily, and restore to any snapshots in seconds when system crashes. Simply, easily and quickly.
Fix a Crashed PC in Seconds, Incredibly Fast . No matter what system problems user's PC has, with the first-class patent anti crash technology, users now have a quick solution to fix their crashed computer using ACA with a snapshot and restore in seconds.
With ACA, users can Fix All Computer Problems by themselves, Save their Invaluable Life And Hard Earn Money. They don't have to spend hours searching for the solutions and don't have to pay hundreds of dollars to fix their computer at reapir workshops. Just need a restart and select one of the snapshots to restore their system to normal state- Simply and easily, anyone can do it.
Users don't have to re-install Windows any more. Before, once system failure causes users' PC can't reboot, the only sulotion is to re-install Windows which takes hours most of the time. What a time waste! Now with ACA users can restore their computer to brand new in seconds.
Let's see what benefits ACA brings:
1. Fix Crashed Computer in seconds
With the first-class anti crash tech, users can easily solve all PC problems, including blue screen, black screen, virus attack, drivers missing, corrupted registry, etc.
2. Users don't have to re-install Windows again.
They can restore their OS to any snapshot easily.
3.. More Time Computing, Less Time Solving Computer Problems
Users can use their PC 365 days a year, 24 hours a day.
4.. Reset Easily with Continuous Customer Support
Anti Crash Assistant is backed by knowledgeable and friendly support experts who will help users go through every PC problems. Unlike many of our competitors, we offer this online and absolutely FREE.
About Anti Crash Assistant :
Current Version: 1.0.3
File Size: 1.81 MB
Operating System: Windows XP (Will support Windows Vista and Windows 7 soon)
Release Date: November 19, 2009
For more info about Anti Crash Assistant, please go to http://www.anticrashassistant.com.
###