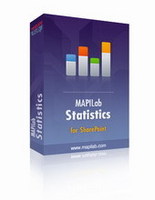 Seattle, WA (PRWEB) December 2, 2009
The MAPILab company is happy to present a new version of MAPILab Statistics for SharePoint - a effective solution for web analysis, networking analysis, and workflow audit on SharePoint-based Intranet-portals and websites. The program is fully compatible with Microsoft Office SharePoint Server 2007 (MOSS) and Windows SharePoint Services 3.0 (WSS).
Microsoft SharePoint is a foundation platform for building web-based applications which allows teams to efficiently collaborate with team members, share information as well as to automate and streamline business processes. Analysis of collected data will help to examine user behavior and optimize the team collaboration. MAPILab Statistics for SharePoint offers reports covering such aspects as users and their behavior, usage statistics and perception of content, document libraries and lists accessed, search queries, and growth in the number of documents, sites, or database size.
The new version 2.5 of MAPILab Statistics for SharePoint offers 10 new important reports such as: summarized data about visitors, document libraries, growth trends for document libraries and lists, unused documents, points of search destinations and other. The reports are available in site, site-collections or farm level.
Statistical data acquisition procedures were also optimized resulting in steady operation of MAPILab Statistics for SharePoint in conditions of high load on servers (the product has successfully passed testing loads exceeding half a million hits per day). Processing of the acquired data was successfully tested under similar peak loads.
Another important point associated with the new version of the software is simplification of the product licensing. Now with the purchase of MAPILab Statistics for SharePoint, only users of customer's Internet or Intranet portal(s) are the subject of licensing. Unlike the previous "servers + users" licensing model, this new model is much more simple and cost-effective for customers.
30-day free trial of MAPILab Statistics for SharePoint is available for evaluation. Moreover, prospective users can review all reports and software features on a special demo-portal (http://www.spstats.com) where of MAPILab Statistics for SharePoint is fully deployed. On-line presentation of the software is also available by request.
###