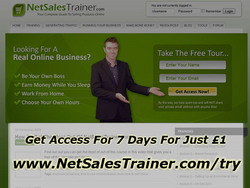 I see it as our job to support all the members of NetSalesTrainer who do the course properly and want to succeed. We have a genuine passion to teach others about the power of the Internet and how it can have a huge impact on their income and lives
(PRWEB) December 2, 2009
UK Ecommerce expert, Jason West announces opening of an exciting new online training Website called http://www.NetSalesTrainer.com. The course promises to teach people from all backgrounds how to make money online by selling products through an Ecommerce store.
The companies owner Jason West says " When I left school I ended up with a grade F in computer studies but I managed to teach myself how to set up an Ecommerce store and have since sold over £3 million pounds worth of products online in just the last few years. The Internet has changed my life and now my team and I have put together exactly how we did it so that other people can do the same."
With more and more people being made redundant and being made unemployed, the opportunity to work for yourself and be in control of your own destiny has become a safer option.
Not only does NetSalesTrainer offer a complete course taking you from having little or no knowledge of how to sell online but full support is available right through the course and beyond.
"I see it as our job to support all the members of NetSalesTrainer who do the Ecommerce training course properly and want to succeed. We have a genuine passion to teach others about the power of the Internet and how it can have a huge impact on their income and lives." Says managing director, Jason West.
The course has taken over 6 months to put together and covers such topics as Market Research, Choosing what to sell online, PPC, SEO, Ecommerce Store setup, Blogging and email marketing.
For a limited time full access to the course is available on a 7 day trial of just £1 GBP that gives people enough time to take a good look at the course and watch some of the 70+ video tutorials.
"We want to give people a chance to take a look around the course and see just how easy it is to follow without asking for a huge amount of money upfront like many other Gurus expect. Thereafter there is a small monthly fee that funds our continued support and the production of yet more quality tutorials every month." Said Jason West.
NetSalesTrainer also provides an 'Action Plan' for each of its course modules so that people know exactly what to do and in what order. "I've been a member of many online courses and many of them left me feeling overwhelmed and confused with no real plan of how to start making money; just a collection of ideas and suggestions rather than a proven step by step method." Says Jason.
NetSalesTrainers ambition is to tell people exactly what they need to know to start selling products through an Ecommerce store and make money, nothing else.
###