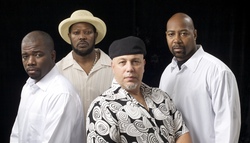 " One of New York's Hottest new Blues and Soul Bands"
Bronx, NY (PRWEB) December 8, 2009
PRWEB) December 8, 2009 -- The buzz on the street is " The Back Alley Players Blues Band are a hot new group". Look out for their new CD called, "Beyond the Blues". Every so often a band of musicians comes along will the ability to change where the music is going. The Back Alley Players Blues and Soul Band are such a group.
New York, home to some of the greatest talents the world has ever known delivers another talented group of musicians. The Back Alley Players, a band whose individual backgrounds fall into many music genres, combined is an awesome Blues band. Songwriter/producer/guitarist Johnny T who was born and raised in Astoria, Queens formed the Back Alley Players in July 2008. Johnny T has been playing the blues since his childhood through out the New York City; Tri-State area.
Johnny's musical skills were enhanced when he was challenged to record jingles for companies such as Kodak and McDonalds. After years of studio work he decided to go back to playing his first love "The Blues". He teamed up with musicians to play at NYC venues such as Yvonne's Southern Cuisine, Rustik Tavern & Minton's Playhouse. The live performances led Johnny T back to the studio to write and produce a full-length Blues album entitled "Beyond The Blues". This project includes some of New York's finest R&B and Jazz musicians such as Vocalist Umar Conry, Bassist Al Brisbane, Keyboardist Howie Robbins, and Drummer Stix Bones. Under the direction of Johnny T they give their fans the Blues and beyond.
Social Networks:
MySpace, Facebook
###