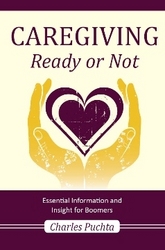 "The purpose of my new book is to provide caregivers with the knowledge, understanding and confidence they desperately need.
Cincinnati, Ohio (PRWEB) December 1, 2009
Charles Puchta is on a mission—a mission to help families understand and embrace the challenges of caregiving.
"While we hope our loved ones live long, healthy and prosperous lives, the reality is that many people require care at some point, and their needs often become evident during the holiday season when friends and family gather," says Puchta, who is founder of the non-profit organization Aging America Resources (AAR) and director of the Center for Aging with Dignity at the University of Cincinnati College of Nursing. "My aim is to help make caregiving a rewarding experience for both caregivers and care receivers."
With the December 2009 release of his newest book, Caregiving: Ready or Not, Puchta aims to help Boomers grasp what is involved in providing compassionate and purposeful care that is acceptable to the care receiver.
Puchta has found people tend to think more about the tasks involved in caregiving and less about the roles they have as caregivers. As a result, many of them struggle to anticipate and address their loved one's needs, and many care receivers do not get the support they need and deserve.
At any given time, caregivers serve as an advisor, an advocate, a coordinator, an evaluator, a mediator, a protector and a provider. Oftentimes, they juggle many of these roles simultaneously and under tremendous stress.
"The purpose of my book is to provide caregivers with the knowledge, understanding and confidence they desperately need," Puchta says.
Caregiving: Ready or Not (ISBN: 978-0-9722104-7-8) offers practical information, tips and insights that help caregivers work with loved ones to make informed, sensitive decisions concerning care. It is the second of three titles by Puchta that deal with caregiving principles. His other books include Care
For One Another: Biblical Caregiving Principles, and the soon-to-be released Engaging While Aging: Important Considerations and Transitions, which will be available in February 2010.
Puchta, a Certified Senior Advisor and award-winning author, is offering a free, 15-page Caregiver Starter Kit that contains excerpts from Caregiving: Ready or Not. This resource can be downloaded at AAR's new website http://www.caregiving.cc.
As founder and principal of Aging America Resources, a 501(c)(3) non-profit organization based in Loveland, Ohio, Puchta has dedicated his life to equipping, empowering and encouraging family and pastoral caregivers. His books can be purchased at http://www.caregiving.cc and at http://www.amazon.com.
# # #