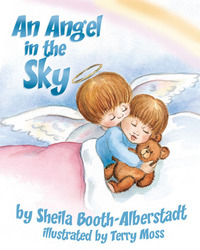 "A notable book for every family around the world!" Santa Ernest Berger, Founder of Santa-America
Fairhope, Alabama (PRWEB) December 10, 2009 –
An Angel in the Sky by Sheila Booth-Alberstadt, a beautiful children's book that has brought reassurance to countless families, is back in print and available from SBA Books. Illustrated by Terry Moss, Santa-America has endorsed An Angel in the Sky as a top book to read to children in hospice care. The storybook is full of genuine compassion and brings much needed consolation straight from the author's heart.
Written specially for chronically ill children or kids and families confronted by end of life issues, An Angel in the Sky is in every way original, as the author seeks to wrap her readers in a warm hug. Reviewers praise An Angel in the Sky for Booth-Alberstadt's gentleness and compassion and her deft treatment of death and dying.
"Children need to try and make sense of grief in their lives. An Angel in the Sky achieves this in a most wonderful way," said Dennis Brown, Pastor, St. Michael's Episcopal Church, Chickasaw, Alabama. While Ernest Berger, President, Santa-America, Inc. said, "In its simplicity and tenderness, it will touch the hearts of all who seek to love a child and family in hospice care, grief and bereavement." Even end of life organizations praise Booth-Alberstadt's book. "In a world fascinated by angels, this book provides a sweet playmate for a small child," said Pat Schwiebert of the Perinatal Loss Organization.
Since 1997, Booth-Alberstadt has volunteered as a hospice care provider. That experience, face to face with people's mortality, profoundly influences An Angel in the Sky.
"It's a beautiful experience to hold the hands of a complete stranger, with hope in providing comfort through emotion, touch or prayer, before making their final journey. Being a hospice volunteer has truly helped me appreciate life," she said.
To order a copy from this new printing, visit http://sbabooks.com/library/an-angel-in-the-sky/
About Sheila Booth-Alberstadt
Sheila Booth-Alberstadt is a full-time parent, successful businesswoman and now, an accomplished children's book author. Mother of six, she handed the thriving insurance agency she built, Booth-Alberstadt Insurance Agency/Farmers Insurance Group in Daphne, Alabama, to her husband and chose to stay home with her children. Until the birth of her fourth child, she home schooled the kids. Each of Booth-Alberstadt's children's books addresses vital children's issues, from the mundane, like dealing with tangled hair or making good choices, and the extraordinary, like death and dying.
Booth-Alberstadt has two books available, the newly re-released An Angel in the Sky, and her most recent book, the delightfully winsome Maggie McNair has Spiders in her Hair. That title based on her all-too-real and all-too-common experience taking control of a child's unruly tangles. She has two forthcoming books, The Day I Met Santa, inspired by Santa-America's visits to children in hospital and at home and Under the Crybaby Tree, about children dealing with their parent's poor choices. Booth-Alberstadt has also been commissioned to write a book for Auntie Litter, a multi-award winning national non-profit dedicated to training children in environmental stewardship through fun, innovative and interactive programs.
She hopes her books help kids beyond the usual kids' picture books. "I feel that being a child is more difficult than being an adult. My goal is to create a series of self-help books designed to give encouragement and direction when dealing with our everyday issues in life…and to leave a powerful message of hope," said Booth-Alberstadt.
For more information, or to order any of Sheila Booth-Alberstadt's books, visit http://sbabooks.com/
Contact
Madison Colquette
Marketing Director
SBA BOOKS
madison(at)sbabooks(dot)com
251-990-0978
###