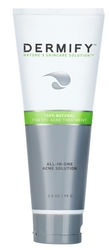 I love how, fast and easy Dermify cleared up my pimples" - Melody, 23
New York, NY (PRWEB) December 7, 2009
Natural secret to finally clear acne revealed. Whether it's called pimples, zits, blackheads or whiteheads no one likes acne. Nothing kills confidence more than acne and the tireless pursuit to find a treatment that actually works.
Now for the first time, there is Dermify, a 100 percent natural acne treatment that is safe, gentle and clinically proven to clear all types of acne and prevent future breakouts…the natural way.
Dermify's All-in-One Acne Treatment is the result of more than 20 years of research and formulation by an acclaimed biochemist and herbalist and contains the only 100 percent natural FDA approved acne drug.
Dermify's mineral rich clays, organic botanicals, micronutrient-rich herbs and antioxidant fruit extracts will cleanse, purify and nurture skin for a clean, healthy glow. In the matter of seconds, Dermify will:
Shrink pimples & reduce oily shine & unclog pores
Smooth & brighten skin
Prevent future acne breakouts without dryness, peeling, redness or irritation
Dermify is clinically proven to effectively treat and clear cystic acne, whiteheads, blackheads and pimples for men and women of all ages and skin types - including pregnant women.
Dermify Difference: All-In-One Acne Treatment
100 Percent Natural and Organic - Dermify has no harsh soaps, sulfates, benzoyl peroxide, salicylic acid or synthetic chemicals commonly found in other acne products.
Proven Fast Results - Many Dermify users experience noticeable results after just one use and clear, acne-free skin within days.
FDA-Approved Ingredient - Dermify contains the only 100 percent natural, FDA approved drug used for the treatment of acne.
Eco-Friendly - Dermify and its packaging are sourced from biodegradable, non-toxic and renewable/sustainable resources. Dermify is cruelty-free and has never been tested on animals. Dermify is the first "green" acne solution.
"Having suffered acne myself, I'm proud to bring a new 100 percent natural acne treatment that will help the millions of acne sufferers," said Jordan Finger, President of Dermify. "Until the launch of Dermify, teens and adults have had to use harsh chemicals or prescription drugs, like Proactiv™ or Accutane™ which not only can cause horrible side effects, but in many cases, provide no relief from the acne disease they were trying to treat."
Mr. Finger adds, "The combination of being 100 percent natural as well as using the most eco-friendly, green manufacturing processes available today, makes Dermify a very exciting new product that will finally allow the acne sufferers to get the clear acne-free skin they want, while also being gentle on the environment."
Real People, Real Results with Dermify
A 250 person clinical study was done on Dermify to prove that it is a safe and effective great treatment. This is what several of the Dermify users had to say,
"I really think that Dermify is a miracle product... I mean every word of it. This stuff just ROCKED my life and cleared my face. I absolutely feel more confident now because I know that I don't look really gross. Everybody noticed and complimented me on the change in my skin, my husband, my mother and all of my friends. I feel and look great!" Genevieve, 27
"Dermify really works... its quick and easy to use and it really cleans my skin. I didn't think it was going to work but I then realized that it did. By the second week, my face had gotten clearer. Now I just wake up, use Dermify and I'm good to go for the day. I recommend anyone who sufferers from acne to at least give it a try" - Edward, 19
"I noticed after the first week that I was clearing up. When I think of Dermify, I think refreshing, cleansing, and natural. I feel like I can go out without having to worry about covering my skin up. I can just go out naturally, and feel confident about myself.... I'm not worried about my face. It helps me just to be me. I love how fast and easy Dermify cleared up my pimples." - Melody, 23
To learn more about Dermify, please visit http://www.dermify.com.
About Dermify LTD
Dermify LTD - mission is to bring the most natural, premium beauty and skin care products to market that work as advertised. Through extensive research and development, as well as testing, Dermify sources the highest-grade natural and organic ingredients, supports the greenest farming practices and uses the most cutting edge, eco-friendly manufacturing processes available to create premium quality, safe, and effective beauty products.
# # #