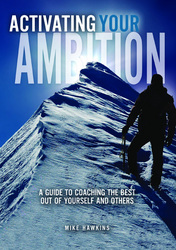 Dallas, TX (Vocus) December 1, 2009
Executive coach Mike Hawkins has discovered the main ingredient that has eluded the masses in their search for self-improvement. Simply put: a reliable approach. In Activating Your Ambition: A Guide to Coaching the Best Out of Yourself and Others (Brown Books), Mike outlines eight principles that consistently lead to sustainable behavior change. It is a must read for anyone seeking to improve their skills at work, enhance their relationships at home, stop self-limiting behavior, or be a coach to others.
Presented in two sections, Activating Your Ambition shows readers how to get more out of themselves in order to reach their highest potential. The first section lays the foundation to building an ongoing self-improvement mind-set and defining the specific improvements that will best enable one's lifetime goals and dreams. The second section covers the approach to achieving ambitions through the application of eight proven principles. There is also an appendix that provides specific tools anyone can use to successfully activate their ambition.
By overcoming numerous behavioral challenges in his own life, including an addictive personality, Mike Hawkins has learned to control his emotions and adhere to new values. He has also realized that before activating his own ambition, he was over using his strengths and misunderstanding his weaknesses.Turning his attention to helping others, Mike learned a great deal about the relevancy of contemporary issues that affect the way people grow personally and professionally. He then went on a journey spanning more than a decade to understand what causes people to behave the way they do and how self-limiting behavior can be overcome.
Through it all, Mike has become a savvy coach and seasoned consultant with a deep understanding of not just what it takes to be successful, but how to make success a reality. His principles take people easily out of their comfort zones and into a place where they can overcome fears, change routines, stop addictions, and modify behaviors. With this practical approach, individuals and organizations can reliably achieve higher levels of sustained success.
Mike Hawkins is an executive coach and expert in helping people reach their goals. He is president of Alpine Link Corporation, a company that focuses on leadership, self-improvement, and business improvement. Activating Your Ambition is available online and at bookstores everywhere. For more information visit http://www.alpinelink.com or http://www.activatingyourambition.com. Email him at mike at aplinelink dot com.
###