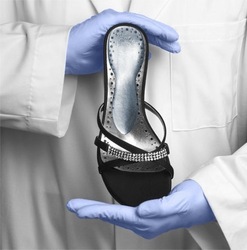 "With Insolia Inserts, science has come to the sexy world of high heel shoes."
Salem, NH (PRWEB) December 2, 2009
HBN Shoe, LLC, the company that supplies footwear manufacturers worldwide with revolutionary comfort technology products, announces special holiday discount and new improvements to the company's consumer product, Insolia® High Heel Inserts. Customers can receive a 15% discount and free shipping during the holiday season at the Insolia web site, http://www.insolia.com. Now with anti-bacterial improved adhesive, and a new visual appearance, Insolia has strengthened its market leading position. The Science behind Insolia was developed by the combined efforts of a world-renowned podiatrist and an MIT rocket scientist and continues to be the only high heel insole that is proven to shift weight. With patents and the Seal of Acceptance of the American Podiatric Medical Association, Insolia Inserts are unlike even the newest Gel high heel insoles, which only provide cushioning or padding.
"We are all used to science being part of our daily lives, even in what we wear – scientifically engineered fabrics and scientifically designed athletic shoes. With Insolia Inserts, science has come to the sexy world of high heel shoes," says Michael Backler, president of HBN Shoe, LLC. "We have developed a 21st century scientific solution to the problem of high heel pain and discomfort. Finally, women can feel comfortable all day in any high heel of their choice."
Now with 'Natural Elements', a unique eco-friendly antibacterial silver ion technology (tested under AATCC Methods 100 & 147) that prevents the growth of bacteria that can cause odors, Insolia Inserts become the only anti-bacterial high heel insole. Other enhancements include a new adhesive to make it easier to use Insolia Inserts in any style high heel shoe– sandals, sling backs, pumps, wedges, etc, and a new more transparent look that allows the insert to almost disappear in any high heel shoe and allows the shoe brand name to be clearly visible. Pictures of the product can be found at http://www.insolia.com.
"Once women try the new product they will notice the difference immediately" said Dr. Howard Dananberg, creator of Insolia Inserts. "In my medical practice I have seen hundreds of women live in pain because of high heel shoes and now they don't have to. Insolia High Heel Inserts create such a difference in high heel shoes that women who thought they had to give them up forever can go shopping again. Women who wouldn't dare go an entire day in heels and women who are on their feet all day can now wear the shoes they actually want to wear."
Dr. Dananberg pioneered the use of computerized in-shoe pressure testing in his medical practice. In-shoe pressure sensing provided Dananberg with a new perspective on various problems of feet and shoes. Using this technology, he discovered that not only do high heels shift weight to the forefoot they place the body out-of-balance. With the assistance of Brian Hughes, an MIT trained rocket scientist, Dananberg commercializes his footwear solutions into real products. From a physical point of view the only logical solution to the affects of high heels is to reverse their weight shift. Gel insoles provide extra padding which does not shift weight and only masks the real problem. Insolia is the only product that offers this unique fix.
Insolia Inserts are an extended development of a family of products used in high heel shoe manufacturing. More than 7 million pairs of Insolia products have been sold worldwide. This unique approach to high heel comfort has been quietly gaining market success by being manufactured into in millions of pairs of shoes sold in various brands at retailers around the world.
Insolia products have various worldwide patents issued and pending. Dananberg and Hughes, through HBN Shoe, LLC, have a mission to bring a technological revolution to footwear and foot care by establishing Insolia products as indispensable components for footwear. The company is committed to maintaining leadership in footwear and foot care technology through innovation and discovery. Today, the benefits of Insolia products are available worldwide with partners in Asia, Europe and North America. For more information go to http://www.insolia.com.
###