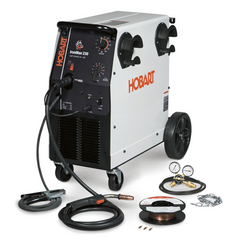 "Having 12 voltage taps really helps users dial in the 'sweet spot' to improve bead appearance and have less cleanup." - Caleb Krisher, product manager, Hobart Welding Products
Appleton, WI (PRWEB) December 1, 2009
Hobart Welding Products introduces the IronMan™ 230, a DC/CV, single-phase, MIG/FCAW welder that delivers a 30- to 250-amp output (60 percent at 175 amps), providing the versatility for a wide range of applications, from light industrial and MRO to body shop, heavy-duty farm/ranch uses and hobby applications. The IronMan 230 replaces Hobart's IronMan™ 210 and 250, combining their features in a single unit suited for welding mild steel material ranging from 24 gauge to ½-in. The welder can also be optimized for aluminum welding by connecting Hobart's optional DP-3545-20 spool gun.
Highlights/Key Facts

250-amp industrial-grade MIG welder
Replaces IronMan 210 and 250 models
Features 12 voltage taps for increased fine-tuning of the welding arc
Tool-less spool hub adjustment
Robust cast aluminum drive system
Available through farm/ranch and hardware/tool retailers in the US and Canadian markets, the IronMan 230 has a MSRP of $1,450 prices will vary by retailer.
Hobart Listens
In designing the IronMan 230, Hobart extensively surveyed users on how they would improve the IronMan line of MIG welders. This resulted is several new features incorporated into the IronMan 230, including a softer, "sweeter" arc and seven additional voltage taps for a total of 12 to improve arc starts and minimize weld clean up. In addition, a more robust cast aluminum two-roll wire drive system replaces the previous plastic drive system, and a patented hub design requires no tools to adjust for a variety of spool sizes (1, 2, 10 and 45 lbs.) and ensures perfect alignment of the spool and feed head.
Keep it Clean
Additional features include two cable hangers mounted on the unit's side to keep the power cord, MIG gun cable, work lead and welding hood organized and out of the way, and an on-board storage compartment for contact tips and nozzles. A built-in running gear/cylinder rack is standard equipment, allowing operators to move the unit around the shop or garage with ease.
Hobart backs the IronMan 230 with its 5/3/1 warranty, which covers the transformer for five years, the switches, controls and valves for three years and the torch for one year. For a detailed spec sheet or free literature, visit http://www.HobartWelders.com, call 1-877-HOBART1 (462-2781) or write to Hobart Welders at P.O. Box 100, Lithonia, GA 30058.
Product manager quote
"The Iron Man 230 welder's exceptional short arc MIG performance enables good arc control," says Caleb Krisher. "In addition, having 12 voltage taps really helps users dial in the 'sweet spot' to improve arc starts with less spatter and to create a more stable arc – resulting in enhanced bead appearance and less clean up."
About Hobart Welding Products
Hobart Welding Products offers a complete line of industrial-grade Stick, MIG, TIG and spot welders, plasma cutters and generator/welding power sources designed for easy use. Hobart products are available through farm and tool retail stores as well as welding supply distributors.
Hobart Welding Products is a division of Hobart Brothers Company, Troy, Ohio, a wholly owned subsidiary of Illinois Tool Works Inc. (NYSE: ITW). Based in Glenview, Ill. ITW is a multinational Fortune 200 company that engineers and manufactures welding products, fasteners, components, assemblies and systems for customers around the world.
For information visit http://www.HobartWelders.com, call 1-877-HOBART1 (877-462-2781), or write to Hobart Welding Products at P.O. Box 100, Lithonia, GA 30058.
Editorial Contact: Ron Piskula, Insight Marketing, LLC, (262) 478-9295
###