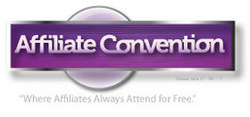 We are excited and proud to create what some have called a true stimulus package for the internet industry to stay ahead of the ever changing landscape while providing this all important education free for the working affiliates
Los Angeles, CA (PRWEB) December 1, 2009
The Affiliate Convention comes to Los Angeles on Thursday, bringing thousands of the best and brightest minds in Internet mass-marketing and advertising together. Organized by WebmasterRadio.FM and AffEuro, Affiliate Convention is free for all working affiliate marketers to attend!
Affiliate marketing enables individuals a chance to make money while creating their own businesses. One of the fastest growing and most successful advertising channels on the Internet, affiliate marketing presents extraordinary economic opportunities for anyone with a bit of knowledge and an Internet connection. Many involved in affiliate marketing are able to earn higher than average incomes through diligence and hard work.
Free for working affiliate marketers to attend, Affiliate Convention is supported by tradeshow exhibitors and conference sponsors including, Hydra Networks, Litle & Co., MySpace/FOX MyAds, Unique Leads, Advertise.com, MarketHealth.com, and Click Fusion and more. Media sponsors include WebmasterRadio.FM, Saturday Night Magazine, Website Magazine, PRWeb, SitePoint, Visibility Magazine, and more.
"We are excited and proud to create what some have called a true stimulus package for the internet industry to stay ahead of the ever changing landscape while providing this all important education free for the working affiliates", says Affiliate Convention cofounder Daron Babin.
Affiliate Convention features a roster of speakers drawn from the most well known experts in the affiliate and Internet marketing industries. With sessions ranging from basic introductory panels to highly advanced technical and legal panels, Affiliate Convention is designed to meet the needs of a wide range of affiliates. Speakers include affiliate marketing legends; Linda Woods (President of PartnerCentric), best selling author Rosalind Gardner (Super Affiliate Marketers Handbook), Shai Pritz (CEO of Unique Leads), Marshall Simmonds (Chief Search Strategist, New York Times), Heather Paulson (CEO of Paulson Management Group), super-affiliate James Martell, David Duckwitz (CEO of Citizen Hawk), Lena Siara Huang (eCommerce Manager for Marriott International), Matt Mickiewicz (CEO of 99Designs), industry God-Father Mike Mackin, and many more.
Search engine marketing expert writer and commentator Danny Sullivan will deliver the first keynote speech towards the close of Thursday afternoon. One of the pioneers of search marketing, Danny Sullivan is among the most respected names in the industry. His presentation will conclude with an interview conducted by Daron Babin of WebmasterRadio.FM in an unprecedented open question and answer session.
Best-selling author Tim Ash will lead the second day keynote with a discussion on how to improve one of the most important facets of an online marketing campaign, the landing pages web users are directed to. A strong landing page can make the difference between success or failure for online marketing efforts. Tim Ash is considered one of the best in the business of creating winning landing pages for online merchants.
Affiliate Convention is an opportunity for affiliate marketers to meet and network with many of the strongest affiliate managers, networks and programs. Among the events planned for Affiliate Convention are two 90-minute speed-networking sessions organized by Moss Networks.
With free sponsored admission for working affiliate marketers, Affiliate Convention is the "new home" of the affiliate marketing industry. Affiliate Convention opens on Thursday December 3rd at the Hyatt Regency Century Plaza in Los Angeles. Strategic sessions will be broadcast live over WebmasterRadio.FM and will be available in podcast format through the WebmasterRadio.FM website and iTunes.
About Affiliate Convention L.A.:
Affiliate Convention bases its conference and tradeshow series on the idea that actionable information, business building and networking opportunities should be freely available to everyone in the affiliate marketing industry, especially to working affiliate marketers. Sporting a growing line-up of thought leaders in the affiliate and search engine marketing sectors, Affiliate Convention LA is a unique opportunity to meet and share ideas with the brightest business people in the affiliate marketing industry. Affiliate Convention is the only event in the affiliate marketing industry which gives affiliate marketers free access to the movers and shakers in the sector.
For more information about Affiliate Convention, please visit
http://affiliateconvention.com
For more information about the conference agenda including planned events, please visit: http://affiliateconvention.com/agenda-la-2009.php
For more information or for interviews in Los Angeles, please contact:
Brandy Shapiro Babin
954-736-4171
###