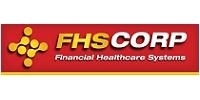 "FHS is excited to launch this series," said Tim Estes, Co-founder and Chief Executive Officer, FHS Corp. "With U.S Hospitals reducing their travel and continuing education budgets, it has become necessary for FHS to bring our expertise and knowledge of
Denver, CO (PRWEB) December 2, 2009
Financial Healthcare Systems (FHS Corp) announced today the launch of a webinar series that will focus on price transparency and patient estimations for revenue cycle, finance and registration hospital personnel. The inaugural event will occur on Tuesday, December 8, 2009 at 11:00 am MST. The goal of the 60-minute long complimentary webinar is to provide industry information, process development and technology solutions that will give hospitals and health systems across the county the information they need to provide meaningful patient financial responsibility estimations in order to increase collections and reduce bad debt.
"FHS is excited to launch this series," said Tim Estes, Co-founder and Chief Executive Officer, FHS Corp. "With U.S Hospitals reducing their travel and continuing education budgets, it has become necessary for FHS to bring our expertise and knowledge of pricing transparency directly to hospital staff. Participants can enjoy the educational benefits within the privacy of their own office while gaining an in-depth view of how other hospitals are addressing pricing transparency within their facilities. It is a win-win all around."
Using Pricing Transparency to Empower Your Organization will define the concept of transparency and help hospital personnel understand what transparency means to healthcare providers, payers and patients. Participants will discover the effective elements in transparency programs and how to avoid meaningless information, allowing for the creation of credible and defendable estimates.
Travis Gentry, Co-founder and Chief Operating Officer, FHS Corp will lead the presentation and will be joined by Leslie Richard, Corporate Director of Revenue Cycle Management for Centura Health; Staci Meredith, Regional Director of Revenue Cycle Management for Catholic Health Initiatives; and Carol Hubschman, Regional Patient Access Director for Catholic Healthcare West. Each panelist will present a provider's prospective on launching pricing transparency projects within their respective organizations to include significant ROI and patient satisfaction.
To register for the complimentary webinar, go to: http://www1.gotomeeting.com/register/664028768
About Financial Healthcare Systems
Denver-based Financial Healthcare Systems (FHS Corp) developed ClearQuote™ as one of the industry's first patient estimation solutions to address the rising demands of price transparency and patient consumerism. Providing credible pricing estimation information prior to treatment, ClearQuote enables providers to collect money up front, reduce bad debt, and increase patient satisfaction.
FHS Corp provides pricing estimation services to premier health systems nationwide and ClearQuote has been selected as the estimation engine for many of the industry's leading revenue cycle solutions. For more information visit http://www.fhscorp.net or call 303-216-0202.
###