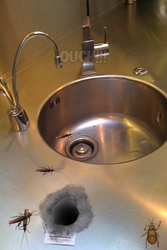 While each of the Slapdown Games is a great deal of fun, there is significant science behind what we have produced
Christchurch, New Zealand (PRWEB) December 8, 2009
HIT Lab NZ Ltd., a leader in interaction-based software, today launched Slapdown Games, with the first two camera-based augmented reality gaming applications for Apple's iPhone. The two mobile games – "Drift" and "Splatter Bugs"- available now on Apple's iTunes App Store - showcase an entirely new form of game-play using mobile phones, where users are able to combine gaming with the real world around them.
HIT Lab NZ Ltd. combined advanced computer vision processing and game development methods to produce the first two Slapdown Games for iPhone. Both games feature a unique form of game play that makes the experience more interactive and 'real' for users. Using the iPhone camera to read a physical game-card, users launch the "Drift" or "Splatter Bugs" virtual game experience through the iPhone camera – a technique known as augmented reality. The action taking place in the game looks as if it is happening in the user's own environment, whether projected on a desk, a wall, a pillow or a friend's head.
"While each of the Slapdown Games is a great deal of fun, there is significant science behind what we have produced," said Andrew Plimmer, CEO of HIT Lab NZ Ltd. "We have combined some of the most advanced computer vision techniques with artificial intelligence, game mechanics and interaction design, to create an incredibly compelling user experience."
Drift – Gaming Has Changed
A wickedly addictive new augmented reality gaming experience, Drift creates exhilarating drift racing circuits that users can slide around at breakneck speed. Gamers race around barrels to set new lap records by using the touch screen to control direction. Tracks vary depending on the angle the user sets to view the Slapdown card, so they control the layout and the difficulty of the tracks.
Splatter Bugs – You've Got a Bug Problem
In this augmented reality application, the user's world has been infested by cockroaches. After taking a picture of the Slapdown card with the iPhone camera, a roach hole appears and little critters begin to swarm out. The faster the user eradicates them, the better their score. With bonuses for trick squashes, gamers can enjoy the twisted pleasure of squishing these nasty little critters. But, it's not easy; with each level, they get faster and smarter.
Other so called "augmented reality" apps available for iPhone don't provide accurate scale, location or a true real world perspective. Slapdown Games are the first and only vision-based augmented reality applications that give a very real sense that the virtual objects in the games actually exist in the user's current physical environment. The bugs in "Splatter Bugs," for example, look like they are really running around, right in front of the user's eyes.
Augmented Reality for Advertisers
While each of the new Slapdown Games has incredible gamer appeal, the augmented reality capabilities of the applications also provide marketers with an alluring new experience they can incorporate into their advertising strategies.
"Our vision is that, soon, there will be certain brands consumers will expect to "play with" wherever they see them – on packaging, billboards, at train and bus stops, for example," said Plimmer. "With our technology it is possible to launch experiences like shooting hoops in 3D against a billboard using a mobile phone. It's a fun way to spend the time waiting for a bus, and provides a good experience for both the user and advertiser. We are experts at taking a marketing message and creating a fun mobile experience around it. We have recently worked with global brands like Fanta and Ford to create unique branding campaigns, and have some exciting new projects underway."
HIT Lab's "Drift" and "Splatter Bugs" applications are available now from the iTunes App Store for $.99 a piece. To download the applications, please visit: http://www.slapdowngames.net or the iTunes AppStore.
About HIT Lab NZ Ltd.
HIT Lab NZ Ltd. is a New Zealand based interaction software company that develops solutions for the advertising, education, health and gaming sectors. The company has produced innovative mobile marketing experiences for global brands, including Ford, Coca-Cola and Nike, among others. The company originated as an economic development venture in partnership with the University of Washington, Canterbury Development Corporation (N.Z.) and University of Canterbury (N.Z.).
###