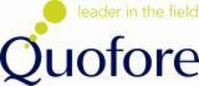 management's visibility into what's selling
Atlanta, Ga. (Vocus) December 1, 2009
Toy-shopping season has arrived, and Spin Master, the company behind famed brands Bakugan, Air Hogs and Liv, has an even bigger advantage than competitors this year: fresh industry recognition. Spin Master received the coveted Consumer Goods Technology (CGT) SMB Award for 2009, given to a company that best utilizes technology and processes to achieve substantial growth in size and/or revenue. In the description of reasons for the award, which was presented at the annual Consumer Goods Business and Technology Leadership Conference, the panel of judges cited "management's visibility into what's selling" and "the ability to make immediate promotional plan adjustments."
The technology attached to these indicators of field force effectiveness comes from Quofore, an international leader in mobile software solutions for consumer products companies.
"Using Quofore's retail mobility solutions provides us a single platform to share data across all levels of the organization, increasing the speed and accuracy of information flowing between our retail operations team and head office," said Dave Balkaran, Spin Master's director of retail operations and consumer care. "Having up-to-date information at our fingertips gives us the ability to better manage our growth across all markets and make more informed business decisions. With reps across the U.S. and Canada, utilizing the Quofore solution on the Motorola MC35, we are looking forward to a productive holiday season."
In addition to the benefits that the CGT judges recognized as being important to Spin Master's growth, Quofore's mobility solution has improved store-level merchandising effectiveness and empowered its merchandising team for greater confidence and employee morale. The technology has also prompted the exchange of ideas between merchandising reps for increased display effectiveness.
"To receive this award from CGT solidifies our commitment to innovation throughout our business," said Balkaran. "In our selection process, Quofore demonstrated the ability to change and adapt to our business needs. As Spin Master continues to evolve, we need business partners that can grow with our changing needs."
About Quofore
Founded in 1998, Quofore (formerly O4 Corporation) is recognized as the international leader in mobile software solutions for field representatives in consumer products companies. Companies using Quofore solutions are able to drive competitive advantage through their management and execution of field sales, merchandising, promotion, and direct delivery activities. Incorporating world's best practice, Quofore solutions reflect the experience and domain expertise gained from over a decade of specialized industry focus, working with customers in more than 20 countries in both modern trade and emerging markets. Quofore markets its software worldwide through its regional offices in the Americas, EMEA and the Asia Pacific region, and works closely with its partner ecosystem to service and support its customers worldwide. Quofore has delivered solutions to customers across six continents including leading global corporations such as Procter & Gamble, Cadbury, Brown-Forman, Dyson and Black & Decker, as well as numerous small to midsize companies. For more information, visit http://www.quofore.com.
About Spin Master
A multi-category children's entertainment company since 1994, Spin Master has been designing, developing manufacturing and marketing consumer products for children around the world and is recognized as a global growth leader within the toy industry. Spin Master is best known for such popular brands as boy's action phenomena and 2009 Toy of the Year winner Bakugan Battle Brawlers™, 2008 Toy of the Year winner Air Hogs®, Aquadoodle™, Tech Deck™ and Moon Sand™. The company has also marked an entry into children's media with the launch of Spin Master Entertainment, a division focusing on the design, development and production of television and other media properties. Spin Master employs over 800 people with offices in Toronto, Los Angeles, Paris, London, Hong Kong and Mexico. For additional information, visit http://www.spinmaster.com.
###