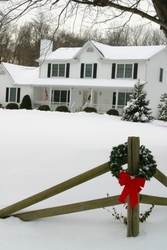 Charlotte, NC (PRWEB) December 3, 2009
The holidays are here and their arrival brings time with family, great food and fun holiday parties. As people fill their homes with gifts and decorations, home security and safety should be at the top of the holiday checklist. Security Choice, a leading online resource for the best in home security systems, offers the following tips for keeping homes and loved ones safe this holiday season.
Don't display big gifts – Giving and receiving gifts is a fun part of the holidays, but if big ticket items like gaming consoles and TV's end up under the tree, conceal the evidence. Burglars often look for boxes near the trash to give them an idea of what to expect inside a home. To be safe, break down boxes so they fit inside the trash can.
Don't use holiday lights 24/7 – It's important to turn off all home holiday lights before going to bed or leaving for an extended period of time. And never hook up one extension cord to another. Purchase extension cords that are long enough to stretch across the room to prevent an electrical or fire hazard.
Do background checks - If carpet cleaners, housekeepers or other home service professionals are in the home to help prepare for guests, check their track record. Many criminals are in a house for other reasons before they return to burglarize it. Make sure to use services that are reliable and never leave spare keys for a repair person or housekeeper.
Activate the home alarm – Set the home alarm system when leaving the house – especially during the day. According to the most recent FBI Uniform Crime Report, daytime burglaries increased by more than 6 percent in 2008. Close blinds and put away expensive holiday gifts and valuables.
Leaving town? Leave the lights on – People often think leaving one house light on is enough to make a home look occupied. But it's just the opposite. Place timers on two or three lights throughout the house so they turn on and off at different times. This gives the home a more 'lived in' appearance.
Follow these home security and home safety tips for a fun and relaxing holiday season. For additional home security information, visit http://www.securitychoice.com.
###