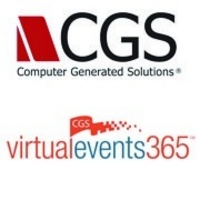 Nanci is known for her creative problem-solving, flexibility, attention to detail and 'client-first' approach
New York (Vocus) December 2, 2009
Computer Generated Solutions, Inc. (CGS), the global leading provider of virtual event solutions (http://www.virtualevents365.com), today announced that Nanci Brown has been appointed director of events for VirtualEvents365. Brown is a ten year veteran of the online events industry, having managed hundreds of virtual events with such partners as KPMG, Avaya, Intel, Cisco, Cognos, RIM, National Instruments, The Economist and The Financial Times. An industry pioneer, she has worked extensively in this discipline since its infancy, leading projects in a variety of international locations, including Toronto, Tel Aviv and San Francisco.
Brown collaborates with technology and creative partners to ensure a seamless, engaging and memorable online event experience. She works closely with new clients to provide the initial coaching, orientation and training required for successful event planning and execution.
"Nanci is known for her creative problem-solving, flexibility, attention to detail and 'client-first' approach," noted Tom Wieser, vice president of virtual event solutions at CGS. "These qualities make her a tremendous asset to the VirtualEvents365 team allowing her to engage productively with our clients.
Brown earned a graduate diploma in Digital Media, a college diploma in Professional Photography and a BA in Communication and Film from Brock University. She received her Project Management Professional (PMP) certification from the Project Management Institute in January 2007.
About CGS VirtualEvents365SM
CGS VirtualEvents365 is the global leader in virtual event solutions for corporate events, demand generation marketing events & launches, corporate e-learning, virtual job fairs, virtual conferences and virtual tradeshows. This innovative platform builds on CGS's 25 years of experience developing technology-based solutions for over 3,500 organizations worldwide. For more information please visit http://www.virtualevents365.com
About CGS
For twenty-five years, CGS has enabled global enterprises, regional companies and government agencies to drive breakthrough performance through technology. With global delivery capabilities, expertise across leading platforms and deep experience in multiple industries, CGS has become the IT partner of choice for thousands of organizations worldwide. CGS delivers a wide array of proprietary and third-party business applications, technology and business services, outsourcing solutions and learning & communications platforms. Headquartered in New York City, CGS maintains a worldwide presence with 20 offices in North America, Europe and Asia. For more information please visit http://www.cgsinc.com
###