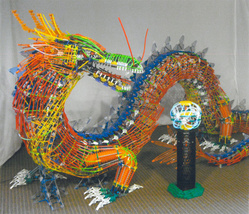 Hatfield, PA (Vocus) December 1, 2009
WHAT: 2010 K'NEXpert Grand Prize winners Alex (age 6), Connor (age 8) and Ian (age 12) will visit K'NEX headquarters in Hatfield, PA as guests of K'NEX President Michael Araten.
The winners will receive their $10,000 U.S. savings bonds, enjoy a lunch with K'NEX designers and take a private factory tour. Their award-winning models will be displayed at K'NEX headquarters for family, friends and the media.
WHEN:
December 1, 2009.
11:00 a.m. – 12:00 p.m.
Additional times available upon request.
WHERE:
K'NEX Headquarters
2990 Bergey Rd.
Hatfield, PA 19440
For more information or to RSVP please contact Aimee Cirucci at 215-996-4209.
###