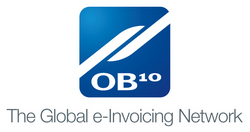 Broadlane and OB10 clients now have the advantage of accessing industry-leading business processes to ensure their organizations deliver optimal efficiency and cost reductions
Dallas, TX and Atlanta, GA (PRWEB) December 1, 2009
Broadlane, the leading cost-management company for healthcare providers and supplier of technology-driven supply chain solutions, has partnered with OB10, the number one global e-Invoicing network, to offer a comprehensive electronic supply chain solution to its more than 1,000 acute care hospital clients in the United States.
Through the Broadlane-OB10 alliance, healthcare providers will be able to eliminate between 60 to 75 percent of the paper invoices they receive from suppliers and replace them with electronic invoice data that is automatically submitted directly into a provider's accounting system. Automating the majority of invoices that healthcare providers receive has numerous benefits including lowering operational costs, reducing exceptions, realizing prompt pay discounts, eliminating late payment penalties and decreasing paper archiving costs. Capturing a larger portion of a hospital's invoice data also allows greater visibility into off-contract savings opportunities. The decrease in paper invoices is one additional way Broadlane is helping healthcare providers "green" their supply chains.
"We are excited about this new partnership," said Les Popiolek, senior vice president, Procurement Services at Broadlane. "By partnering with OB10, we are expanding our e-Invoicing supplier base beyond those equipped to only utilize EDI. OB10's solution enables us to offer e-Invoicing from any supplier regardless of size or technical capability, allowing us to steadily advance the automation of procurement processes. OB10's solution complements what we offer our clients by further integrating the back-end invoicing process, allowing for a truly automated 'procure-to-pay' process."
The OB10 e-Invoicing solution is a secure network in which access does not require a change to an organization's accounting system. In addition, for Broadlane clients utilizing BroadLink, Broadlane's e-commerce exchange, no additional connectivity or IT infrastructure is needed. All transactions will flow through the existing BroadLink connection.
"Broadlane and OB10 clients now have the advantage of accessing industry-leading business processes to ensure their organizations deliver optimal efficiency and cost reductions," said Jamie Gunn, CEO - OB10. "By partnering with Broadlane, OB10 is better positioned to offer a variety of hospitals and healthcare providers access to a suite of industry-leading electronic invoicing solutions designed to streamline the procurement process and speed the delivery of goods and services."
About Broadlane
Broadlane is dedicated to making quality healthcare affordable. Through proprietary technology, industry-leading sourcing and innovative services, Broadlane's staff of experts offers solutions to healthcare providers that dramatically improve operating margins. Broadlane's offerings include: end-to-end supply chain management, clinical and financial analytics, purchasing portfolio management, workforce management and a complete suite of consulting services that address Lean process transformation, supply chain best practices, capital equipment lifecycle and clinical utilization.
Broadlane serves more than 1,100 acute care hospitals, 5,000 ambulatory care facilities and 40,000 physician offices.
The company is headquartered in Dallas with offices in Cincinnati, Detroit, Houston, Nashville, New York City and Oakland. For more information, visit http://www.broadlane.com.
About OB10
OB10 (http://www.OB10.com) is the leading global B2B e-Invoicing network. OB10 simplifies and streamlines the complex invoice-to-pay processes. Neither client organizations nor their suppliers are required to implement any hardware or software, and OB10 is independent of data file formats. OB10 can reduce the cost of paper invoice processing by typically 60 percent and can deliver an ROI in less than a year if the program follows OB10's best practice guidelines. Operational across Europe, North America and Asia, OB10 is compliant with the requirements of VAT, tax and e-Invoicing legislation and receives invoices from suppliers in over 100 countries. To ensure unrivalled and rapid supplier enrolment, each new customer's suppliers are supported by an implementation services team responsible for getting them up and running on the OB10 network.
Customers include: Agilent Technologies, Aviva, BP, Barclays, Cargill, DHL, DSG International, Eli Lilly & Company, Fisher Scientific, General Motors, GlaxoSmithKline, Hewlett Packard, IBM, Kellogg's, Kraft, Logica, Lufthansa, Mohawk Industries, Motorola, Pfizer, SaraLee, Schneider Electric, Shaw Industries, Steria, US Federal Government, VWR International and Xerox.
###