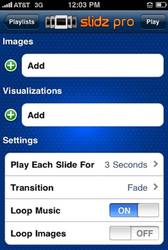 "Slidz Playlist Pro shifts your music listening into a fun, multimedia experience," said Mike Merrill, President of Smartphones Technologies, Inc.
Jacksonville, FL (PRWEB) December 1, 2009
Smartphones Technologies, a mobile application publisher, today announced the launch of Slidz Playlist Pro, a full-featured upgrade to Slidz Playlist Lite, a free slideshow application launched in Apple's App Store in September 2009. Slidz Playlist Pro is the first app of its kind, allowing users to add swirling visualizations or customized picture shows to their music playlists, giving them something visually compelling to watch while they're listening to their favorite tunes. Alternatively, users can use the application to create a "brag book" style slideshow of photos—of their children, friends, pets or even special events like parties, vacations and weddings—choreographed to music in their own specially-made playlists.
Slidz Playlist Pro is available for $1.99 and gives users even more options for creating animated playlists including 43 transitions for fading one photo into the next (compared to four transitions in the free Lite version) and 13 colorfully-patterned visualizations (a new feature in Pro not available in Lite). A product demo online is available online at: http://www.slidzplaylist.com/Slidz_Demo.mov
"When you're listening to music on your iPhone or iPod touch, there's not much to look at except the album covers, which are interesting artistically, but pretty tedious and static after a minute or two," said Mike Merrill, President of Smartphones Technologies, Inc. "Slidz Playlist Pro shifts your music listening into a fun, multimedia experience with customized photo slideshows choreographed to the music, or visualizations that move and swirl while the music is playing."
Slidz Playlist makes it easy to incorporate photos from a variety of sources. In addition to using photos already stored on your iPhone, users can import pictures directly from Flickr or even from their Facebook account using Facebook Connect technology. Moreover, users can set the timing for each photo, as well as loop the photos and music.
Slidz Playlist Pro is ideal for anyone who wants to enhance the musical experience on their iPhone or iPod touch, including:

Music fans who want something visually exciting to watch while listening to their tunes
Parents who want to show off pictures of their kids and family in a slick, choreographed slideshow
Teenagers who want to create a photo show of themselves with their best friends with their favorite pop tunes playing in the background
Slidz Playlist and Slidz Playlist Pro require iPhone OS version 3.0 or higher.
About Smartphones Technologies
Founded in 2002, Smartphones Technologies is a mobile application publisher specializing in creating unique media content for all the most popular platforms including iPhone, Blackberry, BREW, J2ME, Palm Pre, Windows Mobile and Symbian. Smartphones Technologies has developed more than 16 applications for motion picture studios, sports franchises, music companies, and brand owners including MAXIM Hometown Hotties, Lingerie Football League and various college and pro sports apps. Its application library is available on more than 27 carriers, portals and App Stores worldwide. Smartphones is also the largest publisher of college songs on iTunes, and has licenses with more than 180 colleges and universities. Based in Jacksonville, FL, Smartphones Technologies is privately held. For more information, please visit http://www.smartphonestech.com.
Note to reporters:
If you would like to download and review the application for editorial-only purposes at no cost, please contact Erica Smith (see information below). Screen shots available upon request.
Media Contact
Erica Smith
Sonus Public Relations
415-830-4530
###