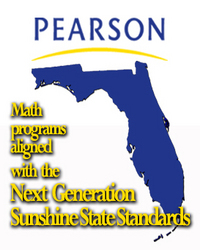 Our AlgebraPrep app series is the perfect complement to both Florida's new Next Generation Sunshine State Standards for Mathematics and the state's forward-thinking initiative to leverage the power of digital content to raise student achievement, Florida iTunes U.
Tallahassee, Fla. (PRWEB) December 1, 2009
When Florida middle and high school students struggle with learning a difficult concept in Algebra, teachers can now say "I've got an app for that" and turn to Pearson's innovative AlgebraPrep App series for the iPhone™ and iPod touch® for instant help. Developed by the same leading education and technology company that developed the new Prentice Hall Algebra 1, Geometry, and Algebra 2 (Regular and Honors) for Florida, the AlgebraPrep App was ranked the #1 education app on the iTunes App Store earlier this fall.
This series of tutorials featuring practice tests and video tutorials by the bestselling and award-winning instructor Elayn Martin-Gay is designed to provide supplemental help for students in or out of class. Rave reviews of the apps in the iTunes store range from middle and high school students praising them for helping with their homework to college students who have turned to them for support in their higher level math courses.
Pearson teamed up with software developer Modality, Inc., to launch this innovative product application that partners award-winning instructional expertise with the latest handheld technology in August 2009. And it comes at just the right time as Florida education leaders are preparing to implement the new Next Generation Sunshine State Standards for Mathematics in the 2010-11 school year. Simultaneously the state's 67 school districts are in the midst of choosing the new math programs that will allow them to map instruction to those standard for the next six years. The new standards are among the first in the nation based on the National Council of Teachers of Mathematics NCTM) Curriculum Focal Points for Grades PreK-8, which emphasize building a firm foundation in understanding algebraic concepts at the earliest grade levels. Earlier this fall, the Florida Department of Education and partners from around the state launched Florida on iTunes U, featuring rich digital education content for free download.
"Algebra is essential for building the foundation for higher level math, particularly in college. The math programs that Pearson has developed specifically for Florida emphasize the importance of learning these critical fundamentals beginning as early as kindergarten," said Pearson's Vice President for Florida Debbie Campbell. "Our AlgebraPrep app series is the perfect complement to both Florida's new Next Generation Sunshine State Standards for Mathematics and the state's forward-thinking initiative to leverage the power of digital content to raise student achievement, Florida iTunes U."
She continued, "When we showed the AlgebraPrep series to teachers at the Florida Council of Teachers of Mathematics Conference this fall, they were absolutely 'wowed' by both its potential to provide students with supplemental instruction and engage them by showing them that their iPhone can be a learning tool as well as a way to communicate, download music, etc."
Each app in the AlgebraPrep series focuses on a key algebra topic and features a "Practice Test" to help students build skills and gain confidence. AlgebraPrep also offers "Mini-Tests" that enable students to assess their progress and compare scores. The revolutionary capabilities of iPhone and iPod touch enable students to access a variety of learning content just by tapping the device screen. Topics include Factoring; Real Numbers; Roots and Radical; Systems; Rationals; Equations, Inequalities and Problem-Solving; Graphing; Practice Final Exam; Quadratic Equations; and Exponents. They are available beginning at $2.99 each from Apple's App Store on iPhone and iPod touch or at http://www.itunes.com/appstore/.
Campbell concluded, "Now, when Florida students logon to iTunes, they might just as easily be downloading an AlgebraPrep app to reinforce a concept they learned in school that day as the latest song from Lady GaGa or the Black Eyed Peas. Leaders from Florida school districts are already talking to us about innovative ways that they envision integrating this series of downloadable apps into their math instructional programs."
Earlier this month, Pearson's K-12 math programs for Florida, Scott Foresman-Addison Wesley enVisionMATH Florida for Grades K-5, Florida Mathematics 1, 2, and 3 for Grades 6-8, and Prentice Hall Algebra 1, Geometry, and Algebra 2 for Florida for Grades 9-12, and are currently being reviewed for adoption by districts around the state. For more information about Pearson and its support for math education in Florida, visit http://www.mathforflorida.com.
About Elayn Martin-Gay
An award-winning instructor and best-selling author, Elayn Martin-Gay has taught mathematics at the University o f New Orleans for more than 25 years. Her numerous teaching awards include the local University Alumni Association's Award for Excellence in Teaching, and Outstanding Developmental Educator at University of New Orleans, presented by the Louisiana Association of Developmental Educators. Martin-Gay has now authored fourteen arithmetic and algebra texts with accompanying videos including the fully digital Algebra1 and Algebra2 courses soon to publish in MyMathLab. Prior to writing textbooks, she developed an acclaimed series of lecture videos to support developmental mathematics students in their quest for success. These highly successful videos served as the foundation material for her texts. Her text materials and acclaimed video program support Martin-Gay's passion of helping every student to succeed.
About Pearson and Florida
Pearson (NYSE:PSO) has been providing learning materials to Florida schools for more than 100 years. As the world's leading education and technology company, you may know us individually as Scott Foresman, Prentice Hall, Longman, SuccessMaker, NovaNET, PowerSchool, , SuccessNet, and so many more - names in the world of education that are recognized and respected across the state and the globe. We provide education and testing materials from birth through professional learning as well as the complex management systems that maintain student information data for thousands of schools. Our Pearson people are living and working in every school district across the state, and visiting teachers, principals and curriculum directors every single day. In fact, most teachers in Florida have learned their profession by studying with Pearson's Merrill or Allyn & Bacon textbooks, and many have benefited from our professional development programs.
We are your education partners today, tomorrow and for the future and will continue to invest in the very best instructional materials, teacher education, technology advancements, and services to help you and your students achieve success for generations to come. Like Florida's educators, we are stable, resilient and unwavering in our commitment to our children. The challenges of today's economy will not deter us from our mission to create innovative educational solutions customized to align with Florida's standards for 21st century learning. For more information, visit http://www.mathforflorida.com. or http://www.pearsonschool.com.
Contact:
800-745-8489
###