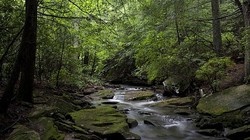 When we decided to sell Waldens Ridge Lake at auction, we did some research and ran across J. P. King
Dunlap, TN (Vocus) December 1, 2009
Approximately 1,250± acres of scenic landscape divided into 19 tracts will sell at auction on Saturday, December 5 in Hendon, Tenn. The land, which offers frontage to an 80±-acre lake and three± miles of shoreline frontage, includes eight tracts selling absolute through J.P. King, the nation's leading real estate auction firm. The auction will begin at 11:00 a.m. at the City Hall of Dunlap, Tenn.
"This property is an outdoor enthusiast's dream," said Craig King, president and CEO of J. P. King Auction Co. "With its lakefront access, ATV trails, wildlife, hardwoods and scenic views, Walden's Ridge Lake is a beautiful escape for exploring or building a home."
Walden's Ridge Lake will be auctioned in 19 tracts ranging from 30± to 147± acres with eight tracts selling absolute with no minimums and no reserves. Perfect for the outdoor enthusiast, 17 of the 19 tracts have lake frontage and all tracts have access to a common area with a dock. The properties also include gravel roads, ATV trails and open fields to accompany horses and equestrian interests.
"When we decided to sell Waldens Ridge Lake at auction, we did some research and ran across J. P. King," said Randy Laine, owner. "When we saw their commitment to one-of-a-kind properties and their success, we were ready to go from there."
A short drive from downtown Chattanooga, Walden's Ridge Lake provides opportunity for a residential community, recreational haven or a second home getaway. Each tract offered includes public water and electricity availability.
"With the Tennessee Department of Environment and Conservation deciding no new lakes will be built on the Cumberland Plateau, this property provides a shrinking opportunity to own frontage on a private lake," said Laine.
For more information about the upcoming auction, individuals may contact J. P. King Auction Co. at 800.558.5464 or visit the company's Web site at http://www.jpking.com.
J. P. King, based in Gadsden, Ala., is the nation's leading real estate auction firm, specializing in high-value properties and portfolios such as luxury homes, developments, condominiums, land and ranches. J. P. King markets upscale properties in 49 states and six countries with recent sales in Texas, Florida, California, Tennessee, Washington, South Carolina, Oregon and Alabama.
###