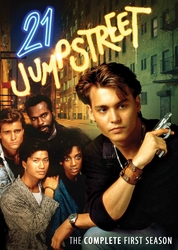 The popularity of these television programs is timeless," said Ian Warfield, President and COO of Mill Creek Entertainment. "Each show has such a dynamic cast of well-known actors along with a high-caliber roster of guest stars. Our plan is to offer the
Venice, CA (PRWEB) December 1, 2009
Mill Creek Entertainment, a recognized leader in value entertainment, will launch "21 Jump Street," "Hunter" and "Renegade," television hits from legendary television writer, producer and creator Stephen J. Cannell on DVD on January 19, 2010. Featuring an array of stars including Johnny Depp, Lorenzo Lamas and Fred Dryer, these "Complete First Season" sets will be available for the low price of $14.98 SRP.
These three TV series mark the initial batch of releases from the most recent agreement inked between Mill Creek Entertainment and Stephen J. Cannell Productions, Inc. "The popularity of these television programs is timeless," said Ian Warfield, President and COO of Mill Creek Entertainment. "Each show has such a dynamic cast of well-known actors along with a high-caliber roster of guest stars. Our plan is to offer these critically-acclaimed shows at an incredible value to both new and existing fans."
Mill Creek Entertainment will release the following television shows on DVD on January 19, 2010:
21 Jump Street – The Complete First Season
Officer Tom Hanson (Johnny Depp) leads his band of agents in the special Jump Street division by going undercover to infiltrate local schools to put a stop to crime and keep students safe from corrupt influences. The 21 Jump Street team is a mixed group including the wise cracking Officer HT Ioki (Dustin Nguyen), the brilliant Officer Judy Hoffs (Holly Robinson Peete), the streetwise Officer Doug Penhall (Peter DeLuise) and the hard-nosed Captain Adam Fuller (Steven Williams).
This landmark television program co-created by Patrick Hasburgh and Stephen J. Cannell not only served as the springboard for Johnny Depp's career, but also dealt with timely social issues including alcoholism, hate crimes, drugs, racism, AIDS, abuse and promiscuity. Each episode resolves with moral lessons being learned and justice being served.

Season One includes all 13 explosive episodes - including the groundbreaking two-part premiere
Guest stars include Jason Priestley, Josh Brolin, David Paymer, Sherilyn Fenn and Blair Underwood
Hunter - The Complete First Season
Often dubbed as television's answer to Dirty Harry, former football star Fred Dryer lights up the screen as Los Angeles Police Department detective Rick Hunter, a renegade cop who breaks the rules and takes justice into his own hands. Partnered with the equally stunning and rebellious Sgt. Dee Dee "The Brass Cupcake" McCall (Stepfanie Kramer), the tough-minded duo bring an edgy attitude, extreme action, sly humor and sexual chemistry while cracking down on L.A.'s slimiest criminals. Created by The A-Team creator Frank Lupo and produced by the legendary Stephen J. Cannell, "Hunter" combines hard-hitting action with mispaired-buddy comedy making it one of the most successful cop shows of all time.

Season One includes all 19 hard-hitting episodes.
Guest stars include Dennis Franz, Brian Dennehy, Dennis Farina, Bo Svenson, Joanna Kerns, Ed O'Neill and more.
Renegade - The Complete First Season
One of the most popular syndicated shows of the 1990s, "Renegade" starred action man Lorenzo Lamas as former cop Reno Raines. As a police officer, Raines testified against the corrupt cops on the force. In retaliation, the leaders of the unscrupulous bunch came gunning for him, but killed his girlfriend instead. Framed for the murder, Raines is forced to live his life on the run from the law, moving from place to place in the American Southwest. But just because he's on the lam, doesn't mean his thirst for justice has ended. Raines continues to help those in need, all while staying one step ahead of his enemies and seeking out the evidence that will clear his name.

Season One includes all 22 action-packed episodes.
Guest stars include Jackie Earle Haley, Martin Kove, Marshall Teague, John Vernon and Stephen J. Cannell!
Currently, Mill Creek Entertainment has other Stephen J. Cannell shows available on DVD including "Wiseguy – The Complete First Season," "Booker – The Collector's Edition" and "Cobra – The Complete Series." Plans are currently underway to release more of Cannell's classic television shows throughout 2010 and beyond including "The Greatest American Hero," "Silk Stalkings," "The Commish" and "Tenspeed and Brown Shoe."
About Mill Creek Entertainment
Mill Creek Entertainment is a source of value home video entertainment. Helmed by a management team with over eighty years of experience in the consumer home entertainment marketplace, the company produces entertainment products that typically sell in quantity, at impulse price-points, while adhering to high standards of quality unsurpassed in the industry. The Mill Creek product line encompasses many genres, speaks to broad consumer tastes and has found favor with both North American and emerging Latin markets. The company's DVD product line consists of classic movies, television episodes, historical documentaries and feature films.
About Stephen J. Cannell
Stephen J. Cannell emerged as one of television's most powerful Emmy award-winning producer-writers over two decades ago. A prolific writer, he would eventually also become a television series creator, an executive producer, a director, a broadcaster, and the head of his own independent studio. He specialized almost exclusively in crime and action-adventure dramas, and his work, by its sheer volume, played a significant role in redefining the parameters of those genres. His early work includes such legendary classic hits as "Baretta" and "The Rockford Files". Yet, his most profound accomplishments came from his independent television production company, with such acclaimed hits as "The A-Team", "Hunter", "Riptide", "Renegade", "21 Jump Street", "Wiseguy", "Silk Stalkings", "The Commish", and "The Great American Hero".
Stephen J. Cannell is also the bestselling author of fifteen novels, including the critically acclaimed Shane Scully series, which includes On the Grind, Three Shirt Deal, White Sister, Cold Hit, Vertical Coffin, Hollywood Tough, The Viking Funeral, The Tin Collectors and the latest installment, The Pallbearers to be released on March 16, 2010.
He has also produced a series of independent films including The Poker House directed by actress Lori Petty. Other projects in development include feature films of The A-Team, 21 Jump Street, and The Greatest American Hero. For more information, please visit http://www.Cannell.com.
Contact:
Amy Gorton
Tower PR
(310) 578-9943
###