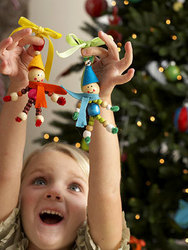 The holidays are typically an extremely busy time for families, so we've loaded up Parents.com with cut outs for paper ornaments, detailed instructions on making a Christmas wreath, suggestions for handmade gifts and much more
New York, NY (PRWEB) December 1, 2009
Parents.com has plenty of activities to make the Christmas holidays a special time for the family – everything from how to make a Christmas wreath, to ideas for handmade gifts, to writing that letter to Santa. The website also features ideas for recharging family Christmas traditions and starting new ones.
"The holidays are typically an extremely busy time for families, so we've loaded up Parents.com with cut outs for paper ornaments, detailed instructions on making a Christmas wreath, suggestions for handmade gifts and much more," said Melissa Inman, executive editor of Parents.com. "Our goal is to be a one-stop website for busy parents who want to involve the family in making the holidays a memorable time."
Parents.com particularly focuses on holiday and Christmas traditions. Regardless of how families celebrate the holidays, they will find an appropriate story in the holiday stories section, including Hanukkah Haiku by Harriet Zeifert, The Twelve Days of Christmas by Jan Brett, My First Kwanzaa by Karen Katz and other Christmas stories. Parents.com also includes family activities that can grow into Christmas traditions, such as visiting a tree farm each year, giving to people in need outside of the family, and participating in neighborhood Christmas caroling.
Christmas printables provide a wonderful way to entertain kids over the holidays. Parents.com features cut outs of paper ornaments for kids to color and decorate, as well as easy-to-make gift tags that kids can personalize. And since all the younger children want to make sure Santa has their wish list, Parents.com includes the perfect template from them to write their letter to Santa. Moms and dads will also find Christmas coloring pages to keep the little ones busy before the big day.
In the Christmas crafts section of Parents.com, parents will find many ideas for handmade gifts and ornaments. The family can get together to make handmade ribbon ball ornaments, light bulb snowmen, gingerbread ornaments, felt stockings and other holiday crafts. No Christmas is complete without a Christmas wreath, and Parents.com provides several ideas for creative wreaths, including how to construct a candy holiday wreath, suggestions for a wreath making party and even how to turn everyday materials into gorgeous holiday wreaths.
To share your families' holiday craft ideas and hear what other families are doing, Parents.com invites parents to follow them on Twitter @parentsmagazine.
About Parents.com
Parents.com is the premier parenthood site on the Web, and the interactive companion to Parents magazine, Family Circle magazine, and American Baby magazine. With its stable of easy-to-use, helpful tools like the baby name finder, the growing belly tool, the activity finder, and the birthday party planning tool, Parents.com serves moms and dads, providing everything every parent needs to raise happy, healthy families from crib to college -- how, when and where they need it.
###