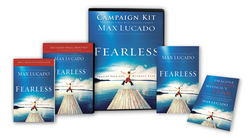 "I hope that churches can band together to become an army of courage to enlist others to focus on God, not on fear," Max Lucado
Vista, CA (PRWEB) December 2, 2009
A new year can bring hope for better days, but in the wake of a year full of struggles, people need to do more than just hope — they need tools and instructions to move past their fear. Churches now have a resource for these tools in the campaign offered by Outreach based on Max Lucado's hugely popular book, Fearless: Imagine Your Life Without Fear (Thomas Nelson, September 2009).
A supplier of Fearless resources and the largest provider of outreach products and services in North America, Outreach, Inc. designed the Fearless church-wide campaign to help churches apply biblical lessons of faith-based courage. Despite what the book calls the "stampede of fear" in today's world, believers can stand firm despite the unknown and refuse to define themselves by the world's threats.
"I hope that churches can band together to become an army of courage to enlist others to focus on God, not on fear," Max Lucado said of the book. "By supporting, encouraging and loving one another, we are prepared to be bold witnesses to the world."
Lucado, dubbed by some as "America's Pastor," has more than 65 million books in print and a publishing career spanning nearly 25 years.
Outreach's Fearless campaign includes six weeks of sermons, small group materials, promotional tools, and video teachings by Lucado himself. Outreach is offering a free Fearless resource kit to churches interested in this powerful campaign. To receive a kit or for more information about the materials, view http://www.FearlessResources.com.
"Fear cripples people, families, churches, even whole nations," says Eric Abel, Vice President of Marketing for Outreach, Inc. "Fearless represents a desire that we all share—that we can look to the New Year with the confidence that comes from knowing Christ and resting in God's sovereign power over the things of this world. Our prayer is that churches using these materials will infuse entire communities with this faith-filled conviction."
Outreach Inc. was launched in 1996 with the mission to share God's love and empower the Church to share the message of Jesus Christ. Outreach, Inc. endeavors to equip the Church to share God's love one billion times by the year 2020.
###