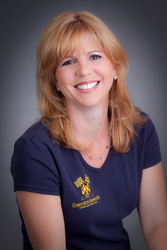 We are not ones to rest on past accomplishments
Sterling, VA (PRWEB) December 2, 2009
Judy Curry, co-founder and vice president of marketing for Curry's Auto Service, headquartered in Sterling, Virginia, has been named one of the 2009 Women Who Mean Business by the Washington Business Journal. She is one of 25 women who were recognized at an awards banquet at The Four Seasons in Washington, D.C., on November 18, 2009.
Curry and her husband Matt incorporated Curry's Auto Service in 1997 and opened their first facility in Chantilly, Virginia, in March 1998. In 11 years, they have expanded operations to five facilities throughout Northern Virginia. Today, Curry Auto Service is one of the largest and most successful independent automotive service and repair companies in the Washington, DC, area with locations in Arlington, Chantilly, Falls Church, Gainesville and Great Falls/Reston.
"We've come a long way," says Curry, a soccer mom with two kids, a business degree and a dream. "We started with $25,000 in personal savings, a family loan of $35,000 and maxed out 13 credit cards to get our first facility off the ground. Every time we got another credit card offer, it went towards a new piece of equipment. We were young and felt we could take the risk. When we opened, I wore many hats - from managing the back office operations to bookkeeping to marketing. Today, I champion our marketing and community relations, which is work I love to do."
This year, Curry has taken on a more visible leadership role, spearheading an innovation program to attract more women patrons. With 60% of car maintenance decisions made by women, she recognizes the value in addressing the unique needs of women drivers and providing a higher standard of service.
She was instrumental in Curry's Auto Service becoming the first auto service facility in Virginia to receive the AskPatty 'female friendly facility' certification. As part of this program, Curry's customers have access to an online community providing impartial advice to women on auto purchases, repairs and maintenance.
Curry has been recruited to serve on the national AskPatty Board of Advisors, where she donates time providing car advice to women across the country. All of the company's managers completed an AskPatty training program and Curry's Auto Service revamped their customer waiting areas to make them more 'family friendly' with books, toys and PlayStation2 to entertain kids of all ages.
"We are not ones to rest on past accomplishments," says Curry. "We've built a successful model on customer service, employee development and technology that's scalable as we grow. We plan to double our number of locations in the next five years."
About Curry's Auto Service
With five convenient locations throughout Northern Virginia, Curry's Auto Service is one of the largest independent service and repair shops in the area. Their locations include in Chantilly, Great Falls/Reston, Falls Church, Gainesville and Arlington.
Curry's Auto Service is certified by the American Automobile Association (AAA), Bosch Authorized and employs American Service Excellence Certified Technicians (ASE). The technicians at Curry's do technical repairs and diagnostics for which many of the franchise outlets do not have the expertise. They also perform routine maintenance like oil changes, transmission flushes, tire sales and Virginia State safety and emissions inspections. Curry's technicians can repair all makes and models, including race prep and performance modifications.
Curry's Auto Service has received the highest AAA ratings in the country for customer satisfaction. This spring, Jim Matthews, Regional Vice President at American Tire Distributors, nominated Curry's for one of the prominent awards in their industry: they were selected as one of three finalists across the country for Tire Review Magazine's "2009 Top Shop Award." For more information about Curry's Auto Service, visit http://www.currysauto.com or call 1-(888)-8Currys.
###